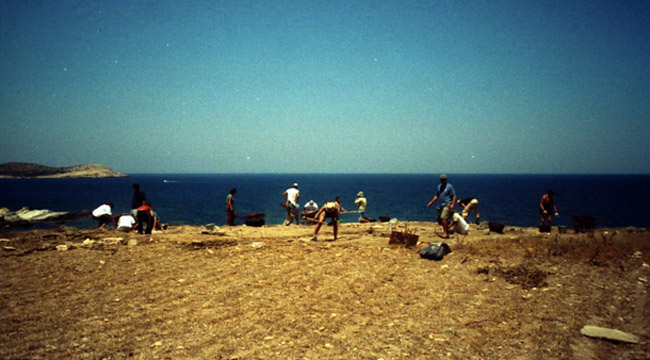 Above: A scene from the Despotiko Excavation in Greece.

From: jvidar@usc.edu
Date: May 21, 2003 10:39:11 AM PDT
Hey all
I only have 10 minutes left on my internet access but I'm just emailing to let you all know that I got in ok
I went to dinner last night with my professor and a fellow SC student at a nice little tavern... its nice having my professor around since he knows where the locals go...
Today my friend Sameer and I left Athens at 7am for corfu... we arrived at 6pm and have been sitting on the beach ever since... its really beautiful here - totally worth the 11 hours of travel! well my time is almost up... hope all is well!
jon
From: jvidar@usc.edu
Subject: latest update
Date: May 23, 2003 9:39:37 AM PDT
After sleeping off last night we rented a car from the youth hostel and went and explored the island... Driving here is insane first off all! We went to this amazing beach and took a boat to explore some caves... I have never seen water so crystal clear in my life! There was one cave that the water was illuminated from light coming in from below and you could see clear to the bottom... and the water was about 20 meters deep! Amazing!
Last night was a lot of fun too... we were taught some greek dancing and I had a plate smashed over my head! gotta go...
Jon
PS if anyone wants a postcard email me your address... even if you think I should already have and or just know it email it anyways!

From: jvidar@usc.edu
Subject: heading to athens
Date: May 24, 2003 10:58:48 PM PDT
so last night was the toga party here at the pink palace... It was pretty fun. I'm headed back to athens today and will be leaving for northern greece with one of my professors tomorrow. Not sure when I'll be able to check email again but hopefully soon... how is everything back in LA? the hostel i'm staying at was packed with canadians and last night they played sweet home alabama and the half dozen americans that were here ran around the room with an american flag.... it was really funny!
anyways talk to you all later
Jon

From: jvidar@usc.edu
Subject: rained in in delphi
Date: May 27, 2003 11:45:40 AM PDT

Glad to hear from all of you... and hope that everyone I haven't heard from is doing well... I left Corfu a few days ago after the crazy toga party involving pink satin toga's and headed back to athens via an 11 hour bus/ferry ride. That wasn't a very pleasant experience... we got into athens at about 6am and after helping some backpackers figure out the buses/metro/hostels we headed for my professor's apartment. By 8am we were on our way to Corinth. Corinth was amazing and we were lucky enough to get a guided tour by one of our professor's friends that works on the site. We went up to acrocorinth (the acropolis at Corinth) as well and we had our first Indiana Jones experience... We were exploring the site with our guide and most of its was grown over so we were literally hiking through growth that was up to our waist and painfully spiky for most of the time. We also went into this underground well and got attacked by hundreds of nats, as a sheep had recently died down in the water... It was an amazing experience though and we never would have known how to get around the vast site without my professor's friend!
We spent the night in corinth and left for Delphi this morning. On the way we stopped by a few other sites (Istmia and Agion - hope i'm spelling those right) Luckily we only had to break into one of them... but there was a convenient gate with foot holes just asking to be jumped over... And it was well worth it - There was an amazing theatre in which I was able to hear a coin drop from the very top(about 40 feet up)... The site itself was pretty amazing as well just seeing the levels of excavation... Its hard to describe but I have pictures!
We arrived in Delphi around 7PM just as a nice rainstorm came in... We're staying here tonight and tomorrow night so hopefully tomorrow it will clear up so we can go explore the site. After that we head back to Athens and probably Fri or Sat we'll catch the boat to Paros and be working on Despotiko on monday...
Talk to you all soon!
Jon

From: jvidar@usc.edu
Subject: more of the same plus good food
Date: May 28, 2003 12:28:26 PM PDT

So today we explored Delphi which is an amazing site! My friends and I actually went back at night when there weren't as many people around and started exploring some of the underground tunnels... They stretched further than I expected but were blocked off before they reached the main temple... We literally had to crawl though some of the them though getting cobwebs in our hair as we went (the newest indiana jones-esque adventure)... We also went to this one site called Krissa that to any untrained ey would just look like a rocky mountain side with a few hiking trails. We never really followed the trails however (that would be too easy and take away the fun and adventure lol) Instead we hiked down this valley and up the other side through quite a bit of brush not to mention a few snakes and relatively large spiders (Indiana Jones adventure number 4 I really should have brought a whip - I did pick up a walking stick/spider remover at one point though)... when we got to the top of the other side we found an uninhabited Church surrounded by 2 dozen goats and we were finally able to see a large fortification wall we had been looking for but unable to find on the other side.
We went to dinner in this nice little ski town called Arachova... And to the surprise of everyone who really knows me I have actually been trying every new food that has been placed in front of me! This includes Tzatziki (a thick garlicy dip), Pantzaria (beet salad), Dolmades (olive leaves stuffed with rice in a lemon sauce), stuffed peepers, suvlaki (meat on a stick), and rabbit among many other things... You guys should all be impressed!
Tomorrow we are off to Thebes in the morning and then headed back to Athens... I'm going to try to come online around 7:30-8AM my time (9:30-10PM PST) to see if anyone is online so try to come on for a few minutes to say hi... I'm not positive if anyplace will be open yet but i'll try...
Jon

From: jvidar@usc.edu
Subject: semi-stationary
Date: May 30, 2003 1:12:52 AM PDT
well the traveling portion of my trip is over for now... I arrive in Paros yesterday after our 5 hour ferry ride turned into an 8 and a half hour ferry ride! It was cool though - I'm not sure if I ever told the list about him but we met this guy, Stew, in Corfu and he was literally this crazy Australian guy that told great stories... Well he ended up being on our ferry so the time flew by! the trip back from Delphi went alright, we stopped by Thebes on the way back and ended up getting a ticket for passing a car in a no passing zone a little bit later ( well so other than that alright!)
So from here I will be in Paros till sunday and then we head over to Anitparos (the small island I will be living on for the next month) I will probably start working on the even smaller island, Despotiko, on monday... apparently we have a lot of weeding to do before we can really start anything... I'll be online relatively often for the next couple days... Mostly in the evening here which is like 10am-noon LA time - so if anyone is around...
Oh and I have a cell phone compliments of my Brother while I'm in Greece. The number is 011 30 6934921003 - so if anyone feels like calling the next three days would be the perfect time! Come on now its really only like 15 cents a minute not that much!
Talk to you later
Jon

From: jvidar@usc.edu
Subject: seafood and rocks quarries
Date: May 31, 2003 9:23:35 AM PDT
well Paros is cool.. small... I explored town yesterday and there are some pretty cool shops and nice places to eat. We went out to eat in a little town called Naussa last night with Yannos (the lead archaeologist) He's pretty wild - it was fun... We had a lot of seafood so a lot more new food experiences...
today we went to some Marble Quarries and explored the tunnels and caves... it was a lot of fun and I am now very glad I brought a flash light!
We leave tomorrow for Antiparos and then I will be out of the email loop for a while but feel free to write anyways and I'll try to send out one last update before I leave. But I gotta run right now...
Jon

From: jvidar@usc.edu
Subject: last contact
Date: June 1, 2003 12:06:33 AM PDT
Well all, this is probably the last you'll hear from me for a while... I'm sure your all sick of the spam updates anyways ;) But I leave in a few hours for Antiparos and will be moving into my new home tonight. Apparently it is pretty mold infested so there is a lot of cleaning to be done... Also it seems that for the last two years someone has ended up with Scabies so I'm a little worried ( I went and bought real sheets today for my mattress to use in addition to my sleep sack) But hopefully all will go well. I'm thinking about going to Ios, Mykinos, or Santorini next weekend so I will let you know how that goes.. Also it seems that I lost my flashlight in the Marble Quarries so until I buy another one I'm not sure how many more caves I'll be exploring!
Oh yeah one other fun story... the Hotel we stay at in Paros is great! Hotel Hermes - Apparently we started staying there three years ago after one of our students got really sick and the owners literally nursed him back to health... Now they are as much a part of the Despotiko group as anybody else. Its a nice Greek/British couple with two adorable kids and they all love us... Its a lot of fun!
anyways I gotta run... talk to you all next weekend!
Jon
PS keep writing!

From: jvidar@usc.edu
Subject: internet!!!!
Date: June 6, 2003 9:44:44 AM PDT
WOW! It took me 40 mins just to check all my email! Thank you everyone for writing! I've really missed internet this last week but I have definitely been keeping myself busy! Where to begin??? The Dig is a lot of fun! And a lot of work! We wake up at 6:30 every morning ugh and take a bus (that sometimes shows up sometimes doesn't - its a really small place) to the other side of the island (about ten minutes) where we get a small boat across to Despotiko (where we are excavating)... From here its a short walk through about 700 goats to the sanctuary. We work from whenever we get there until about two with a short lunch break. From there we go to a local Taverna for an amazing meal that is already prepared and waiting for us! After that we go back home or to the beach (a 5 min walk from home)... the second is actually really nice just for the purpose of washing off all the dirt! Our house is nice but not quite enough space... Two people are sleeping in the living room... Umm lets see what else??? Yannos the head of the excavation, is awesome! really really funny... Unfortunately we are also working with another guy this year that nobody likes and we are all really sick of already... Bryan we need you!!! (Bryan is my professor that used to work on the dig but had permit issues this year) Everyone else is really cool... there are four of us from USC, 2 greek girls, and several other students from scattered places around the US. I've acquired some great stories as well... already too many to write... But this one lady that is friends with Yannos, Crazy Italian Anna, came to the site the last couple of days and just for background info she's an heiress that is in her 50's or 60's... well she came to the site with two 20 or 30 something model boy toys - it was hilarious everyone stopped and just started gossiping and taking pictures... We actually got them to work a little but they immediately had to go jump in the water to wash away the dirt - hilarious! We haven't really found much yet because we spent the first 4 days cleaning and weeding the site. Today we found a lot of pottery sherds and a threshold for a large building that we are going to work more on tomorrow. Hmmm yeah everything is going well and is a lot of fun... We have "trench talk" during the day to make the time go faster and I have found out more about these people in the last week than I expected... I'm also learning some random greek which is kind of cool. My friend Georgianna that goes to USC speaks it fluently and she's going to teach me... Anyways I have to get going for Dinner but we rented a car for the weekend so that we can get into town so I will be able to check email all weekend so if anyone has any questions start asking! Glad all is well with everyone! And keep writing!
Jon

From: jvidar@usc.edu
Subject: giant spiders and shooting stars
Date: June 7, 2003 6:33:18 AM PDT
Last night was amazing! It was our first night where we could sleep in in the morning so my friend and I went and laid out on the beach till 3AM watching shooting stars! It was a far cry from the random moving star that you soon realize is a plane in la! Oh yeah the reason we went down to the beach in the first place was because we were hanging out on our porch and saw a spider the size of the palm of my hand... when we tried to kill it it would run and then flatten out like a pancake to be the size of my entire hand!!! I'm not afraid of spiders but this one was really really scary! So we went down to the beach...
Today my friend and I went to the caves of Antiparos which were pretty cool and supposedly 45 million years old... I didn't quite realize what the brochure said we would when it described them with the statement " visitors will realize feelings such as awe,amazement and emotions of which they have never felt before"... I kept waiting for a new emotion but it never came. Oh well...
Tonight we are going to go see Final Destination 2 at an outdoor theater (they are a little behind here with movies) and then go experience some of the night life of a tiny island... should be interesting.
Till tomorrow,
jon

From: jvidar@usc.edu
Subject: connected again
Date: June 13, 2003 8:02:31 AM PDT
Hey all!
I'm in Paros right now about to leave for Santorini. My friend Georgiana and I are taking a weekend trip to the island to check out the sites and see what its all about. Basically we just needed to get off of Antiparos for the weekend! The site is coming along nicely but slowly... Its a lot of work! I've carried more wheel-barrels of dirt than I ever expected to in my life! I actually missed one day last week because of what might turn out to be the stomach flu because another person missed today for the same reason... But I pulled through pretty well ie working in misery for two days! But it was actually fun and uh builds character... or something.... We had one really cool find so far - an inscription that says Hestia of the Isthmus in Greek. Hestia is the little known goddess of the hearth and the fact that it says of the isthmus shows that the island I'm working on was actually connected to the mainland at one point in time... As Yorgos, one of the archaeologists on site, kept repeating, "this is a most important find" In my trench however all we've really found are a few walls... I am picking up a few words in greek though but my vocabulary is limited to wheel-barrel, shovel, and various other tools right now... It will be kind of difficult to have any real conversation! Anyways email me while I still have access! and I'll let you all know how Santorini goes!
Jon

From: jvidar@usc.edu
Subject: Santorini
Date: June 15, 2003 3:24:17 AM PDT
Santorini was amazing! We did so much in the one day we were there it was great! We started the day with two Archaeological Museums in Fira (the main city), Then headed to Akrotiri... This site was incredible! They are building the most impressive enclosure I have ever seen for a site around the excavation. It actually feels like your going through the gate into Jurassic Park - its awesome! After the site we walked around a bend to the Red Beach... Really beautiful - all deep red sand and cliffs. After this we went to Ia for dinner and to watch the sunset. I have never seen so many people gathered to watch the sun set before but it was a really beautiful view. People actually applauded so I of course started yelling "Go sun! Way to stay regular!" It was pretty funny! That night we ended up going out to a few clubs and only got charged cover for one of us at one of the clubs! It was pretty sweet cause normally its 10 euro each... We ended up staying out till 5am! Our bus to the ferry left a 6:45am! So we caught an hour sleep at our hotel then 3 hours on the ferry... needless to say I'm pretty tired right now! Work on monday is going to be interesting! Not to mention we have no idea how we are getting from the port in Antiparos to our house because the one bus driver had an operation so there isnt a bus right now... and there are no taxi's on the entire island! Its about an 8km walk so we're just going to start walking till we see a car and then probably hitch a ride (something I would never do in LA but in Antiparos its not a problem!)... Anyways this is probably the last chance I have for internet till next weekend... I might try to check one last time in Antiparos town so try and send an email if you get this in time! If not I'll talk to you all next weekend! I cant believe I have less than two weeks left on the dig time is flying! Talk to you all later
Jon

From: jvidar@usc.edu
Subject: whats new
Date: June 21, 2003 3:44:11 AM PDT
So i'm spending my last weekend here in Paros... I cant believe how quick this whole thing has gone - it feels like I just started working on the dig last week! Anyways not too much new happened at the site this week. We opened some trenches in new areas and uncovered two new buildings. The volunteer work force is kind of falling apart however... Three of the returning members that basically organized all of us this year have left the dig and are most likely not coming back... And now it looks like everyone else is basically leaving after four weeks around the same time I leave... I think there will only be about 2 or 3 volunteers and the three workmen left after that so i'm not sure how they are going to continue at that point... Basically, there has just been a lot of tension on the site between some of the returning members and the directors and its all been coming to a head lately... Us new guys aren't really as involved with it however and are basically just going with the flow. Two of the old members are also handling the situation well and are still working...
This last week has actually been pretty fun for me though. On thursday 16 students from the College Year in Athens program came to help out and they were all really cool - I think we're going out with them tonight in Paros. And also that day one of the volunteers that lives in Antiparos threw a pool party for us which was great! Really relaxing... but work hurt in the morning... Yesterday evening the five of us that stayed in Antiparos for the night hitchhiked into town - We have had amazingly good luck with that so far and lucky too because its a 10 km hike... The bus only runs twice a day if that so thats not really an option... Its the same bus that takes us to work in the morning and I don't know if I told you guys but its hilarious - Our bus driver actually takes a break at the taverna that we eat lunch at to get a drink of Ouzo before driving us home! He was drinking for almost 20 minutes one day! Only in Greece!
So anyways I'll be here until tomorrow so get your emails in quick! As of right now I'm catching a ferry on Friday morning by myself to Crete for a few days and then I might go by Ios on the way back to Athens... I leave Athens on July 3rd for Munich and from there the plans are still up in the air for the next 20 days... Talk to you all soon!
Jon

From: jvidar@usc.edu
Subject: nearing an end
Date: June 26, 2003 2:46:13 PM PDT
Well all... My stay in greece is coming to an end. My work on Despotiko is now over and I leave tomorrow for a relaxing night in Ios. From there I will head to Crete and meet up with a friend from the dig for about three days and go to Knossos and Mallia... I should arrive back in Athens on the second where I will spend a day with another friend from the dig and then leave on the 3rd for munich...
This last week has been a lot of fun. We had 2 bar-b-q's on different beaches on Despotiko (each where we had to jump from the boat and swim the food to shore) And we have had a lot of fun hanging out at our house in Antiparos... I already miss the group of people I was with! This is the first night i've been basically alone for the last 5 weeks so its kind of weird!
Oh yeah I thought I had scabies for a few days last week but apparently it isn't... Its little dots that are only from the ankle down so the doctor thinks its just from like sand mites from the beach or something... she told me not to go to the beach for a while but that kind of hard to do since all i'm doing is island hopping right now!
We were basically all falling apart this last week... my friend Georgianna got a burn on her leg from the exhaust pipe of one of the workmen's motorbikes and she didn't take care of it so it ended up getting infected... She went to the hospital in Paros on monday and they literally just layed her down on a bed and cut off two inches of skin and scab with scissors without anything to numb the pain at all! This is Greece! The doctors have become used to seeing us around though its pretty funny... So far three stomach viruses, strep throat, a sprained ankle, two burns, one possible scabies case, one allergic reaction to a bug in the eye at 2am, and one hurt leg amongst our group and i'm sure there is more that i'm forgetting... Archaeology is dangerous! I'll have email access pretty regularly now so email me back!
jon

From: jvidar@usc.edu
Subject: fun in ios
Date: June 29, 2003 6:15:32 AM PDT
so ios was fun... I got incredibly drunk with my roommate and a few other people and ended up wandering around the main square (by the time I had left the place where I was staying the bartender new what I was drinking and would have it waiting for me by the time I got to the bar)... I went to a few bars and around 3 I ended up in a dance club. I stayed there until about 5:30 when in my drunken wisdom I went to the bus stop to go home... I quickly realized that the bus wasn't running yet but by this time I was pretty much ready to go to sleep so I laid down on the bust stop. I woke up an hour later mid-conversation with some irish man whom I had apparently been talking to for the last half hour... he told me I was the most stoned person he had ever met... and I replied with no i'm just drunk and tired! after I got up I started walking home but as I passed the club I was at it was still going on so I went back in had a few more drinks and then wandered home at 8am... I decided that I should go to sleep at 9 even though I had to check out in a couple hours and ended up sleeping past my checkout time... luckily the guy was cool and didn't charge me for an extra night...
Crete is going well. Andy and I are having a good time... we went to Knossos and the museum today and might head out to a dance club tonight. We went to some bars last night but it was a lot more laid back scene than I had expected.
Hope all is well with everyone... and beware the curse of Istias isthmias!
jon

From: jvidar@usc.edu
Subject: crete
Date: June 30, 2003 8:51:53 AM PDT
Well I've been in Crete for the last couple days now... Knossos the major site of Crete was pretty impressive. Although a lot was reconstructed pretty inaccurately... My friend Andy and I ran into a couple other student archaeologists from another site while we were there though and it was really funny because they had actually heard all about the site I was working on down to the fact that my professor wasn't able to come this year... We had never even heard of there site which had 40 students and twenty workmen on it this year (we had about 12 students and 3 workmen!) Go Despotiko!
Today Andy left to go back to Paros at 9 am so I spent the day alone... I went to another site called Mallia which was another Minoan palace. It also has a really nice modern town here that I hung out in for a while - very MTV spring break... the rest of the day I've just been hanging out in Iraklion... My ferry leaves for Athens at 10 pm tonight and I get in at 5am ugh... I'll email again when I get a chance till then let me know whats going on with all of you!
Beware the curse of Istias Isthmias
jon

From: jvidar@usc.edu
Subject: beware the curse
Date: July 1, 2003 3:48:04 AM PDT
So the curse of istias isthmias / stupidity hit me hard yesterday... I checked out of my hotel and everything and went to Malia in the morning to see the site... then came back and killed like 8 hours in Iraklion (there is nothing to do in Iraklion) waiting for my 10pm ferry... 9 o'clock rolls around and I head for the port and when I get there I look around and realize my ferry isn't there. I think to myself thats strange and then look at the ticket to realize that it was for the next day! I go talk to someone outside the ferry that was going to athens then and he said that it was no problem I could just take that one... well as soon as I got in the ferry the guy taking tickets said I had to go to the office to get it changed... only problem was there was no office and the guys outside just kept telling me just to get on the boat... I went through this vicious circle three times. Well now I looked at my watch and it was 9:50 I gave up on the boat and realized that the
place I was staying the night before had already said they were booked for the night. So I look at the bus schedule and realized there was a bus to Mallia again at ten. I figured it looked like a fun place so I literally ran to the bus station with all my bags (it was about two blocks from where I was) and just made the bus... I got to Mallia and like every hotel was full! I finally found one that charged me 30 euro! But at this point it was midnight and I didn't care anymore! Well I went out and had fun after I checked in but then check out sucked! I used the phone that someone had said was free for like 5-10 minutes and when I went to pay there was an extra 15 euro charge for the call! So i'm like alright what next... at least they have free breakfast... wrong! There was a huge sign in my room saying free breakfast but apparently it was only for people using this one tour group. Well that was it I started arguing about everything! the sign on the back of the hotel room door said that the room should only have cost 24 euro's so I was threatening to report them it was great! I don't even know who to report them to! But anyways the lady behind the counter got pissed back and we were going at it... and finally this man that worked there took me and gave me free breakfast! and when I left I said thank you and have a nice day to the lady and she didn't even look at me! It was hilarious... still not worth 45 euro though! Damn Istias Isthmias

From: jvidar@usc.edu
Subject: restored faith in humanity
Date: July 1, 2003 9:05:58 AM PDT
I had such a great day today its cheered me up a lot... I had actually looked this morning after the hotel room incident into flights home! But anyways I went to Phaistos and saw the site and then I was waiting for the bus which was supposed to come at 4:45 but greek bus system isn't all that reliable... and when it hadn't come by 5 I started asking people that were leaving the site if they were going to Heraklio... Well everyone said no at first but then this one greek family (that had said no) drove by and said they can drive through it for me it was awesome! And they were really cool. The mother and father didn't speak any english but there 19 year old son spoke enough and he actually turned out to be in his first year of college studying archaeology so we bonded. And it was really cool cause we stopped at some other random sites on the way home and they paid for me and bought me water - it was like I was part of the family! So my faith in humanity has temporarily been restored... I think i'm going to avoid tourist towns for a while....
jon