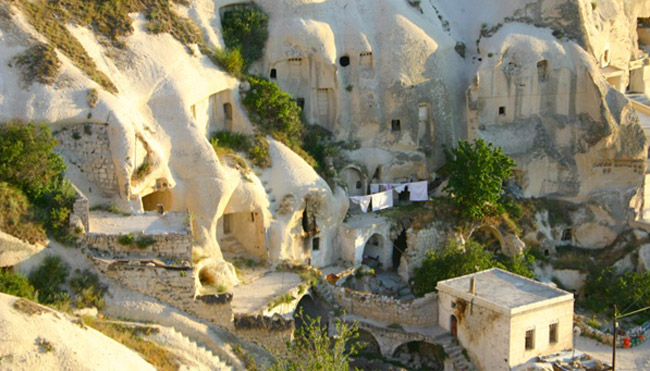 Above: A view of the cave dwellings in Cappadocia, Turkey.

Well I have definitely been busy since I started traveling on my own... Though anyone that as travelled with me before is probably not surprised! From Diyarbakir I headed for Nemrut Dagi. I had to spend the night in Malatya though in order to get there the next day. That actually worked out well because I ended up with a really cheap room in a nice hotel that someone from my bus ride into town recommended. The next day everything seemed to start off well... I got a Dolmuce to Nemrut (or at least I thought I did) and haggled the price down from what he was originally asking. Well the hour and a half trip to Nemrut ended up taking 5 hours and left me in a town called Chata - 60km from Nemrut! A little bit of clarification - there are two roads into Nemrut Dagi - One from Malatya direct which takes less than 2 hours and the other from the other side that starts in Chata... I apparently got the extra scenic tour. So I get to Chata and the next thing I realize is that there is no Dolmuce running to Nemrut. So after failing miserably at hitchhiking to this remote location, I was stuck with signing up with a tour company or giving up and going home! Well the tour company wanted 35 million lira which there was no way i was going to pay, but I had a hard time bargaining with them because it was in front of a group of people that had already given them money... So i said forget it and walked out... The next thing you know, this guy comes after me and says give me 25 but tell the rest you paid 35. So I did it and later listened as a turkish man got it for 15 - I figured right in between the turkish price and the tourist price is not too bad of a place to be as a beginner... It was worth it though because Nemrut Dagi is pretty amazing. The trip home ended up being just as interesting and is a whole nother story that I am going to leave out, but it included taking a ride from a van of school teachers and ended with me paying 10 lira to sleep on a fold out couch in the dining hall / lobby of the hotel I had stayed at the night before! Don't ask...
The next morning I left for Goreme in the Cappadocia valley. This region is absolutely beautiful. It's filled with these crazy rock formations that are still used as cave dwellings. The room I stayed in was actually a cave carved into one of these rock formations. While in Goreme I went to Derinkuyu - an 8 level underground cave city. It was awesome! Straight out of the Temple of Doom, the city had these round disks that could be rolled out of slits in walls to block the city from outside entrance.
After seeing some of the other sites within the city, I decided to leave the next day and head for Olympos near Antalya on the Mediterranean coast. I had heard great things about it from other backpackers and decided to check it out. It ended up being awesome! I spent last night sleeping in a treehouse! I can't decide though if going from a cave to a tree house is a step up or not... Olypmpos Is kind of a backpackers haven with dozens of adventure packs to chose from - I ended up going Scuba Diving after getting the itch for it in australia. It definitely wasn't the Great Barrier reef but it was still beautiful.
Right now I'm sitting at the bus station on my way to Bodrum where I actually plan on staying for more than one night... I'm actually thinking about staying for three if you can believe it!
I feel like I am rambling so I am going to stop typing now... Hope all is well with everyone and someone from Kenan Tepe better send me an update soon ;) How are the left over cases of Efes coming along?