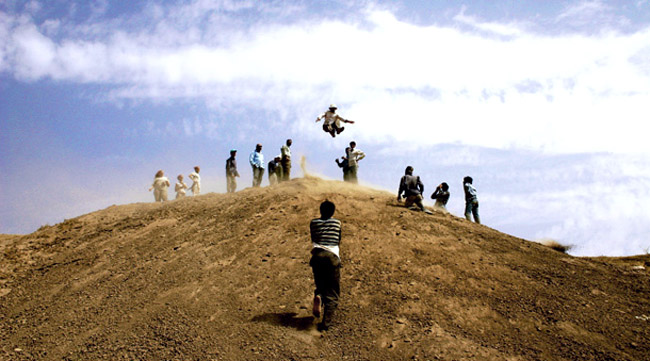 Above: A break from excavating involves jumping out into the dirt dump.

Just wanted to let everyone know what I'm up to this summer... The plans have finally solidified... I leave May 31st and it's going to be about 5 weeks in Turkey and 2 weeks in Rwanda!
Turkey is my usual gig on the Kenan Tepe Excavation in Bismil. And luckily, some last minute funding came through so we will actually be digging this year! I'm also going to be focused on Multimedia, doing all the photography for the site again, but also some video projects and various other things we've been talking about all year.
Rwanda is for a non-profit called the Tiziano Project. This is an organization that stemmed from an idea a friend of mine at USC came up with where we will basically be teaching and facilitating community journalism to youth in the region. We're going to begin by providing laptops, digital cameras, and instruction to the kids at an orphanage in Kigali. I originally got involved with the project when my friend Andrew recruited me to build a dynamic website that will allow the kids to upload photos and create stories. This task soon evolved into my tagging along to help train kids on the system and help make any changes that may arise while in the field.
I am really excited about this project and if you get a chance, you should definitely check out the organization's site at:
http://www.tizianoproject.org/
They also have a fundraiser charity event scheduled for June 16th in Los Angeles that you should definitely check out if you are around over summer. Details and tickets are available on their website.
In other news, I finally have a working version 2.0 of JonathansTravels.com! This site is a much more full featured / functional site than my old .mac website... And assuming everything works out with using the site overseas, I will probably be posting new blog entries and photos throughout this trip rather than sending out these mass emails... You should all be set to receive an email update anytime a new blog is posted with a link to the full story.
I have also added "new" photos and stories dating all the way back to my first trip to Europe back in 2002! It was a crazy blast from the past reading through all the emails I sent out and remembering all the things we did back then...
Anyways, check out the site and let me know what you think!
http://www.jonathanstravels.com