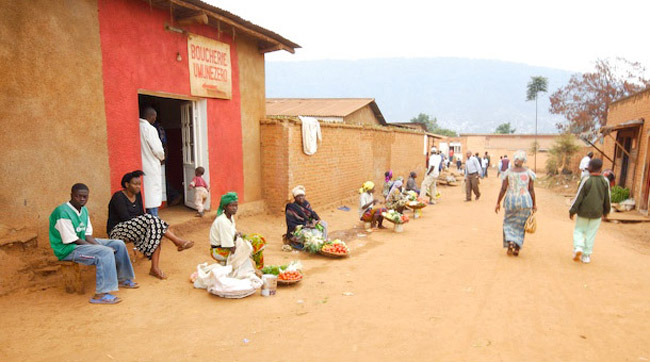 Above: A street scene in Kigali, Rwanda.

// Everyone has a cause //
I have never had quite the same experience flying to a country before. Every single person that I talked to seemed to be coming to Rwanda specifically to work for a non-profit. Now, I realize that Rwanda is not the first choice tourist destination, but it was still weird not meeting one backpacker or someone just going to see the gorillas or something - anything... It actually became like a story trading session of who's non-profit is more important or who is more involved... It was strange.

// National Cleaning Day //
The first thing I noticed when I actually got to Rwanda, was that there were no cars on the road and a ton of Police checkpoints that we had to pass through to get to my hotel. My first instinct was that this couldn't be good... Especially since I had just read online at the airport in Istanbul that a verdict had come down in the trial against the general that murdered the Belgian peacekeepers right before the Genocide... We asked the driver what was going on and he said that it was "cleaning day." Apparently, on the last Saturday of every month (last month was a Holiday so it got pushed back to this weekend), there is a mandatory nationwide cleaning session until 11AM! During this time, EVERYONE is required to go out side and clean the city! I suddenly started noticing that there were actually a ton of people on the sides of the road sweeping and/or picking up trash and/or cutting back plants. Apparently it is the reason why Kigali is actually considered one of the cleanest cities on the continent.

// Just drop this electrical appliance into the water //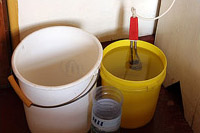 he next interesting T.I.A. (This is Africa) experience was learning how to take a hot shower at my hotel. Since there technically is no hot water, it is a very interesting process. First they provide you with three buckets of various sizes. The smallest is used to pour water over yourself - the "shower." The largest one is used to mix hot and cold water to get the desired temperature and necessary amount of water for the whole shower. Then the medium one - now this is where it gets interesting - gets filled with regular water and you drop an electric metal heating rod plugged into the wall into the bucket of water! I don't know if they have ever seen a movie where a hair dryer is thrown into a bathtub, but this just doesn't seem like a good idea to me... Anyways, you heat the medium bucket of water, mix it with room temperature water in the large bucket, and then proceed to shower using the small bucket. T.I.A.

// Am I sure that I'm not in LA? //
So my friend Tom, who was sent out to do the ground work in getting the Tiziano Project started up here in Kigali, took me to his local haunt for lunch. A starbucks / coffee bean-esque coffee shop that just opened three months ago. I guess the western feel mixed with the free wireless has really drawn the NGO crowd of volunteers to frequent the locale - it was packed with international faces from all over and working for all sorts of causes. Everyone seems to get to know each other real fast here though, as Tom already looked around the room and could point out who most people were and what organization they worked for.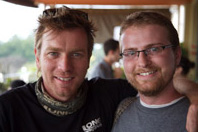 We soon noticed some filming going on on the outside patio, followed by several people taking photos. I saw that most of the people in the group were wearing "Long Way Down 2007" tee-shirts, so I did a quick google search on the free coffee shop wireless and the results were filled with references to Ewan McGregor. I looked back at the group of people standing right next to me... And on the guy's shirt with his back to me - just like a team jersey - "McGREGOR." Bear in mind, I had only been in Kigali for about 4 hours at this point and I found myself in this weird replication of Los Angeles - celebrities, et al... And I cant help but think that I am going to have to go back to my hotel room and heat my shower by dropping an electrical appliance into a bucket of water. T.I.A.

// Getting Ripped off by the US Embassy //
After our Hollywood experience, we decided it just wasn't enough and set off for US soil - a belated 4th of July bar-b-q we had been invited to at the US Embassy. We figured that our tax dollars might as well get us a free burger and some beer. Unfortunately, when we got there we found out that we not only had to pay, but we had to pay A LOT! Everything was way more than it should cost here in Rwanda and it normally wouldn't have been a problem, but because of the National Cleaning Day the banks weren't open and we were basically out of money... Plus with it being Saturday, the banks for sure wouldn't be open on Sunday, so we were really worried that we were going to spend my first two days in Rwanda penniless... Luckily, we eventually found an open bank, but gave up on going back to the Embassy and paying for overpriced american beer and Corona's.

// Partying at the Original Hotel Rwanda //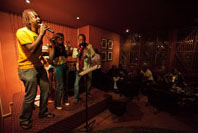 Despite being completely exhausted from the two days of travel from Turkey, I couldn't refuse an invitation to see a new friend's band play at the original Hotel Rwanda. And it just became yet another interesting experience... The band consisted of three singers and a keyboardist / electronic DJ. But the whole performance felt more like a karaoke night, as the three singers kind of just traded off and mixed and matched for songs they felt like singing and when they weren't on stage, they were just hanging out in the bar with their friends... I kind of felt like getting up on stage when they broke out with La Bamba!

// So I'm bringing home a cow! //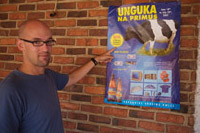 ... that is if I win the contest sponsored by the local beer - Primus. I still have to get the details, but I saw a poster today that said if you buy two Large bottles of Primus, you will receive a raffle ticket to win one of thousands of prizes... The grand prize however - A LIVE COW! As if we needed one, my friend and I found a reason to buy some beer tonight...