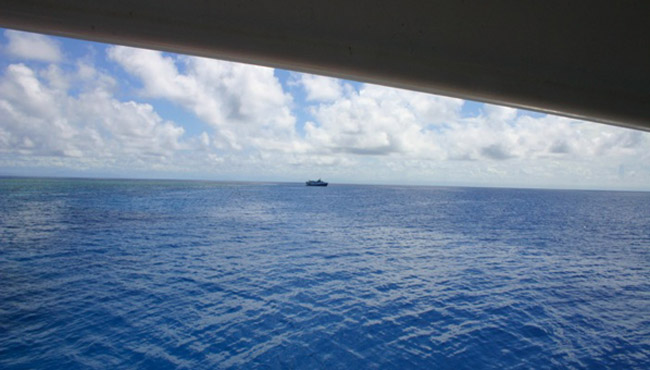 Above: A ship is seen in the distance while diving in the Great Barrier Reef.
The last few days of the trip were at lightning speed so I didn't really have time to get any emails out... I think i left off with the speeding ticket on the way to Cairns though... So I'll start there.
Cairns was awesome! We went scuba diving / snorkeling on the Great Barrier Reef! Absolutely amazing feeling... I think I might get certified in diving now. We saw a 2 meter long shark and some trigger fish that actually attacked a snorkeler... But it was still great and I will definitely do it again!
We also went to an aborigine cultural center while we were in Cairns. Here we attempted (very poorly) to throw boomerangs and spears.
Our next stop was Ayers rock in the outback. We arrived in a tiny airport in the middle of now where and were at first thoroughly confused... Luckily (or unluckily however you look at it) we missed the one bus to "town" - an area with three hotels and a shopping center. The next bus wasn't until the next flight an hour and a half later, so in the meantime we started talking to this one tour agent that gave us a huge amount of info and let us in on all the locals gossip... We ended up buying a shuttle package that got us to Kata Kjutu for an hour hike and to Ayers rock (Uluru) for both sunset and sunrise. Personally I liked the sunrise better...
After that it was off to Melbourne for a night where we visited one of Ian's friends. We started the evening with greek food recommended by a couple we had met in Ayer's rock. Apparently Melbourne is the second highest greek population outside of athens! After that we went to a friends going away party and then called it a night... A quick stop in melbourne....
I came back to pouring rain in LA and after living in perfect summer weather in Australia, I think I'm ready to go back... Interestingly enough, because of the time zone change, I'm sitting here writing this email before my flight is scheduled to leave Australia. Crazy how that works!