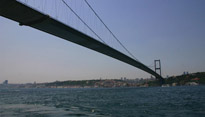 Jun 30, 2005 | No Comments
Well where to begin... Bodrum was amazingly relaxing - which was exactly what I needed! I ended up staying a full three days and three nights in this beach front city mostly just reading a book on the waterfront... I finally got through the DaVinci Code! While I was there, I also went by St. Peters Castle (I believe that was the name) where to my surprise they had several exhibits on underwater archaeology. I thought excavating mud brick was hard - try going down 20 meters and excavating a sunken ship! Because of the pressures of scuba diving, you can only go down for 20-30 minutes at a time, twice a day! I ended up talking my way into the archaeology lab in the back of the castle and met a couple of conservators that talked to me for a quite a while on the subject - it is really amazing!
Continue reading
Turkey 2005: Headed Home :(
.