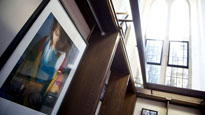 May 17, 2009 | 2 Comments
The exhibit I opened on Thursday in Berkeley went great! Last minute, I was also asked to serve as a resident expert on Iraq in a project by a British artist at the Hammer Museum in Westwood. Read on for more details and a video of my lecture on modernization vs. traditionalism in the Kurdish region.
Continue reading
Summer 2009: Exhibitions Recap
.