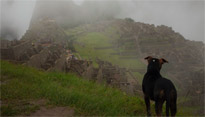 Jan 23, 2007 | No Comments
We made it to Machu Picchu the day after my last email, but unfortunately the site was completely fogged over and it ended up pouring rain all morning. We took solace under a reconstructed house with a group of other tourists, but eventually headed for the snack bar and some hot chocolate. Luckily the weather started clearing up by around noon and we had a few good hours at the site. We never made it back to the first mountain that kicked our A$#, but we did climb Wynapicchu Mountain within the site and still had an amazing view of Machu Picchu from above.
Continue reading
South America 2007: The Last Days
.