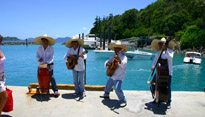 Jan 5, 2005 | No Comments
So we spent two days in the Whitsunday islands... Basically one amazing resort island after the next! The first day we went to on of the smaller ones - Daydream Island - where we took full advantage of all of their amenities as if we were actual guest of the resort (we were actually just staying at a hostel back on the mainland)... While we were on the island we went sailing, used the resort pools, and practiced snorkeling all when we were supposed to go to the "Day visitor" side of the island! It was great!
Continue reading
Australia 2004-05: Resorts and Speeding Tickets
.