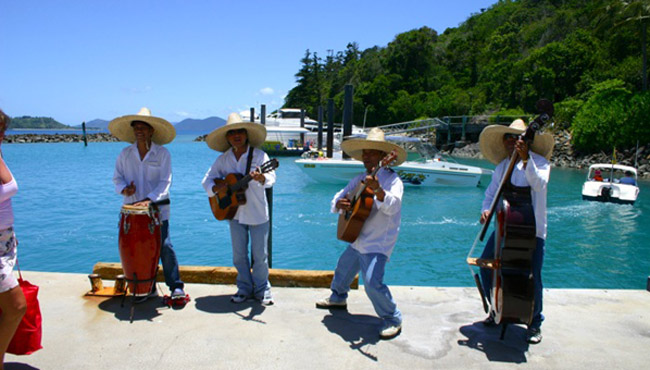 Above: A tropical band welcomes us to the Whit Sunday Islands in Australia.

So we spent two days in the Whitsunday islands... Basically one amazing resort island after the next! The first day we went to on of the smaller ones - Daydream Island - where we took full advantage of all of their amenities as if we were actual guest of the resort (we were actually just staying at a hostel back on the mainland)... While we were on the island we went sailing, used the resort pools, and practiced snorkeling all when we were supposed to go to the "Day visitor" side of the island! It was great!
The next day my only goal was to watch the USC football game. I got word that an Island called Hamilton Island had a yacht club that my have a TV that got ESPN so thats where we headed. And amazingly enough (even though no one was watching it) they had the game on! We camped out in front of the TV and started watching... Right around half time a couple sat down behind us wearing USC shirts and hats! USC alums from 1996! Go figure that I would go 7500 miles across the world and watch the game with fellow alums! It ended up being a lot of fun and great game!
After the game was over we explored the island a little and found an amazing beach! The ocean water was probably 80 degrees and it went about 100 feet out in shallow water! We ended up staying a little longer than expected...
We left in the early evening for the drive up to Cairns. About 2 hours into the trip we saw police lights flashing behind us..... We were leaving a town on a highway and thought we were in an 80 km/hr zone that was about to switch to a 100 zone... Unfortunately we were actually in a 60 zone about to switch to an 80. We were clocked at 89km/hr and given a $250 ticket - ouch. Lesson learned.
We are now in cairns and going to an Aboriginal camp today. Tomorrow we booked an introductory dive trip to the barrier reef. A little nervous but should be fun...