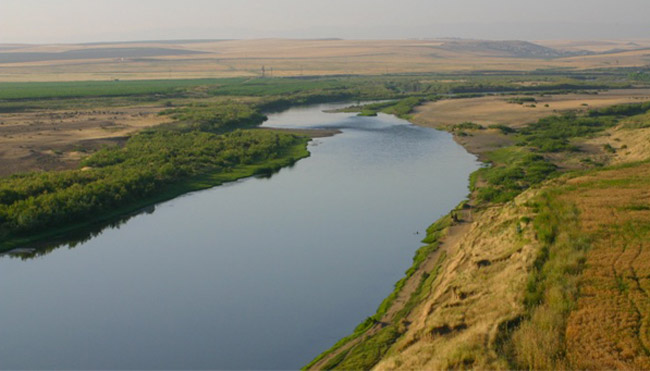 Above: A view of the Tigris River as seen from the Kenan Tepe excavation near Diyarbakir, Turkey.

Well... I made it to Turkey in one piece... Just as a warning though, the keyboards are different here so there are probably going to be a lot of typos!
So any ways everything started off great. I had a 7 hour lay over in Istanbul so I figured I might as well go out and explore for a little while... Ha easier said than done! I couldn't even find the tourist information desk at the airport! The 'Information desk' kept sending me to the 'Tourist desk' but when i tried to find it, everyone kept sending me back to the 'information desk'... Anyways, while tempted to give up and get a beer at the airport bar, I finally ended up down in the metro trying to get to the Grand Bazaar... Yes Ian, the first thing I did in traditional traveling fashion was head to the mall... But hey at least this was the worlds oldest mall! So, after getting conflicting directions from two people, i asked a third who ended up being a Turkish girl that had spent the last 5 years in london and spoke perfect english... After talking with her for a few minutes she offered to show me around for the day! So what could have ended up a day of wandering around lost without a guidebook (I forgot mine at home), ended up being a great day filled with not only the key tourist site but local spots that guide books wont tell you about. But unfortunately I only had a few hours... We exchanged info though and she is probably going to take me around some more when I go back through Istanbul.
After my quick tour, I headed for the airport... I arrived in Dyarbakir to no ride and a barrage of taxi driver saying '150 - stay tonight - tomorrow Iraq'... I guess it was the big duffle bag and shaved head...
Anyway, i finally told one the hotel the dig uses and got there for around 20tyl (about 16USD)...
Today, Bradley (the head of the dig) came and picked me up and I was introduced to my new home for the next month. What can I say... Hmmm... Well its a far cry from a beautiful house overlooking the Mediterranean on a greek island... Bismil (the town I am staying in) has about 100,000 people but is filled with poverty. It's definitely going to be an experience!
Well the power has already gone out three times today (not uncommon) and I have been instructed to keep emails short... So I'm going to cut this off here... Tomorrow I start on the site and will right more when I can... Again sorry for all the spelling mistakes / typos!