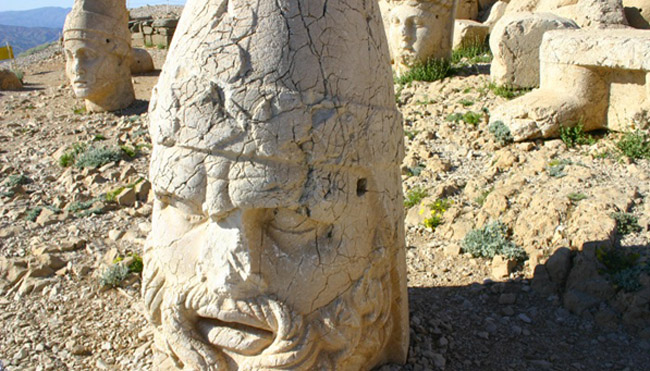 Above: A statue's head in Nemrut Dagi, Turkey.

So I have finished my first week of the dig... It is pretty intense! Our schedule is: Wake up at 5am, on the site by 6, work until 9 and have breakfast, then work again until 2... At which point, we leave the site and head home for lunch and spend the evening working on cataloging all of our day work in the database. Fun stuff! The dig itself is pretty fun but hard work... It's actually not nearly as much physical labor as the last dig i worked on because on this one we have 20+ workmen as opposed to 3 like we did in greece... The workmen is actually a pretty interesting story though - We have had workmen from this one village for the last five years but this year they wanted a raise that was bigger than we could afford to give them... They basically unionized and went on strike thinking that we couldn't work without them... In the end we just went over to the next village and had new workmen within two hours! The foreman of the original crew has been calling trying to get their jobs back because in a village that size he lost a huge amount of prestige by losing them for everyone. They wont be working with us again though... Apparently there has been a lot of back stabbing problems with them in the past.
As far as what we have found... Nothing much down in my area yet... The trench I am in has not been excavated since 2001 so it is pretty filled with a modern level of dirt again. We thought we had a wall yesterday but it turned out not to be. I do have a pit filled with bones, broken pottery and ash though. Hopefully I'll hit something soon.
The city we are staying in - Bismil - has turned out to be very interesting. Our presence there has been met with mixed reactions. Mostly a combination of awe and hatred.... The kids are the worst. The minute i sit down at the internet cafe about 5 surround me to watch what i am doing. The awe isn't that bad but the hatred gets pretty annoying. We are constantly harassed by mobs of 5-10 year olds! I would actually be a little afraid if they were any older, but at there age its just annoying.
We are staying in an apartment building with three units that we have completely rented out. The living conditions are not that bad and the best part is that we have our own cook that prepares amazing turkish meals for us three times a day! We are trying to convince him to come back to america with us!
Today was our day off, which we usually spend in Dyarbakir - the bigger city that I flew into. Once again my luck worked out and I met another really nice turkish girl that ended up telling me where to go (well it was kind of her job she worked at the tourist information office) but we ended up becoming good friends and went out to lunch... I then spent the afternoon hanging out with her at her work and met some of her family. I might actually stay with her sister in Istanbul when I go back - she was just here visiting for the week. We are going to meet up again next weekend and she's going to show me some of the Dyarbakir nightlife... Apparently just one hotel that has a bar and disco.
Well back to Bismil to start in on another week of digging! Hope all is well back home! Let me know what's been going on... But if anyone spoils Star Wars Episode III I will kill you!