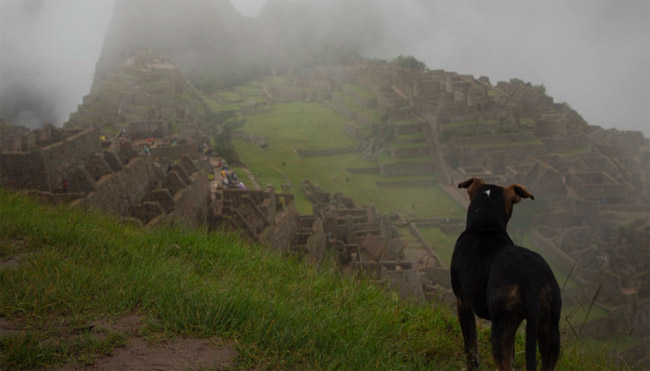 Above: A dog peers over the cliff above Machu Picchu.

So we made it home in one piece having an adventure all the way till the end...
We made it to Machu Picchu the day after my last email, but unfortunately the site was completely fogged over and it ended up pouring rain all morning. We took solace under a reconstructed house with a group of other tourists, but eventually headed for the snack bar and some hot chocolate. Luckily the weather started clearing up by around noon and we had a few good hours at the site. We never made it back to the first mountain that kicked our A$#, but we did climb Wynapicchu Mountain within the site and still had an amazing view of Machu Picchu from above.
That afternoon, we headed back to Cuzco for one last night and had a pretty great time. We started the evening with a nice dinner consisting of beef, Llama, and Guinea Pig (yes Guinea Pig). Apparently, the latter is a real delicacy in the region, so we decided to try it... It came on a platter of other meats, but it was completely whole when they served it. We didn't know quite what to do with it, so our waitress ended up taking it back to the kitchen and cutting it into four for us. All in all, I'm glad I tried it once, but I would probably never try it again... There wasn't much meat on it and it was just a little weird knowing that you were eating a guinea pig. That night was our last big night, and, in typical South America fashion, we did not get home until well after the sun came up.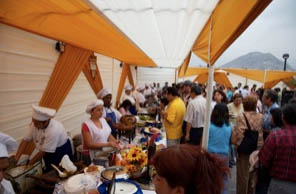 We spent the day exploring Cuzco, before hopping on a plane to Lima. It ended up being perfect timing for visiting this city, as January 18th is actually the equivalent of their 4th of July. After an intricate changing of the guards ceremony in the afternoon, we found ourselves at a traditional food festival as part of the days celebration. We were also the ONLY tourists there and definitely stood out... It was one of the first times that this actually worked to our advantage though, when an elderly woman grabbed us and ushered us past two lines so that we could get our food and learn a little about it in the process. She kept telling everyone that we were tourists and guests to the country and that we should not have to wait in line. It was pretty confusing at the time but we were definitely appreciative and the food she recommended for us was amazing!
That night, we went for one last dinner and headed to the airport... Another trip, another continent...