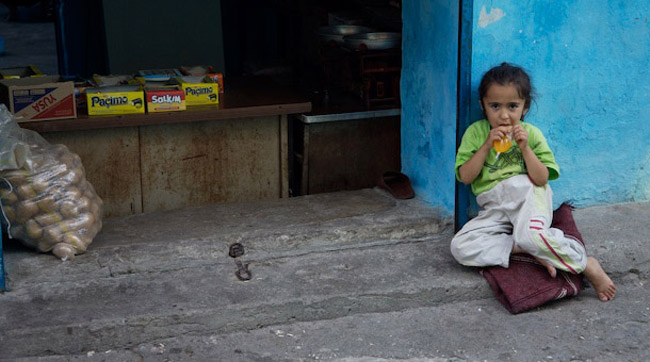 Above: A little girl enjoys some candy on the street in Diyarbakir, Turkey.
// Grandma Burnt the House Down Again //
So my trench on the site hit the absolute jackpot in archaeology: A burned down, collapsed house with perfectly preserved artifacts. We literally doubled, if not tripled the number of small finds we had for this period from the last six years of excavating just from this collapse!
Digging a mud brick site is hard, so this was pretty incredible... Normally, if you get 20 - 30 cm preservation for the height of a 6500 year old mud brick wall, it's not bad. With the house in my trench, we had a meter and a half preserved... Complete with a window! Of course, there is a good chance it was actually a crawl space into a storage chamber, but I like calling it a window!
Archaeology is like revealing a 3D jigsaw puzzle out of the sand... The puzzle is the aspect that I really love. This house was amazing because as we were digging, I was able to make theories about things ranging from how the house actually collapsed -- from the way the architectural components came up, it was clear that the roof caved in then the walls collapsed on top -- to which room the fire started in -- I believe it started in the small chamber room that the "window" led to based on just how charred the floor and walls were in that room. I can go into way more detail about how I think everything came down, but it would need a diagram ;-)
Anyways though, this looks like it will be the last actual "dig" season for the project - with the next couple years being spent as study seasons - so it was nice that the site gave us a little going away present before we left.

// Hello Donkey - Money, Money //
So here in Bismil, most of the families sleep on their roofs during summer because it is so hot inside. Well the other night we decided to have a movie night on our roof since it was the last day of digging and we could actually sleep in past 4:30am. Well we ended up having quite a few beers while enjoying the political incorrectness of Aladdin. By the end of the movie, we were definitely feeling the beers and the director of the dig started a massive dog pile on our roof. Well, the commotion that ensued for the next 10 minutes ended up being the talk of the town the next day, with a couple of our neighborhood friends telling us that they heard us at their house two blocks away!
The neighborhood has actually been pretty cool this year, because we finally made friends with our neighbors for the first time since I have been here... My professor from SC has her daughter with her, and she is now old enough to run around and play with the local kids. This and the fact that I have been taking photos of all the kids and families for them has gone a long way in fostering relations. To give you an idea, when walking back to the house from anywhere in town in the past, we used to have rocks thrown at us and the sound of "Hello Donkey" and "Money, money" would go around the hoards of children in a chorus. Now however, I am greeted with "Canoabi, Canoabi" (pronounced Jono-abi and basically meaning Jon, big brother) and fresh cooked bread from the street side Tandir ovens. It makes a huge difference for sure!

// Headed to Rwanda //
Sadly though, my stay here in Turkey is almost over and it's about time to begin the second leg of my summer adventure: Rwanda. When I told a coworker, that I was headed to Turkey and Rwanda this summer, their first reaction was, "What, are you studying - genocide?" Well no, I am actually going to Rwanda to do some work for my friend's non-profit. The Tiziano Project is working hard to give people in some of the more forgotten regions of Africa a voice through photography and the internet. Right now the project is centered in Kigali, Rwanda, but they hope to expand to other cities soon. Check out their website: tizianoproject.org
I arrive in Kigali on the 7th and will send out and update to let you all know how things are going...