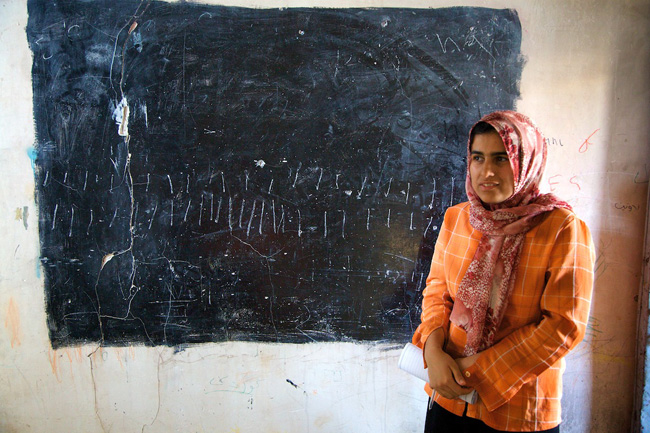 Above: Erbil Province, Iraq - Grdachal Refugee Camp - Tara Saifulla, 17, stands next to what was once a classroom's chalkboard. She jokes that it is her computer. Tara learned english by herself by reading a dictionary and watching television.
The real prize from the Microsoft Contest
Most of you probably remember the Microsoft contest that I was involved with a while back. Well, as I said when the results were announced, the most important thing that would come from the contest would actually be the connections and publicity that the project received. This has definitely proven true.
Kamiran Dizayee, aka the miracle Kurd, came through with flying colors - while never leaving his home in London. He connected me with his brothers Chatto and Sirwan. Chatto is a General Contractor in Erbil and Sirwan is the General Manager at the Erbil Governate. Both of whom are very well known within the community. Sirwan especially, was incredibly helpful with gaining access to the camps. One call from him was pretty much all I needed to get local mayors and village muktars (leaders) to jump to my aid.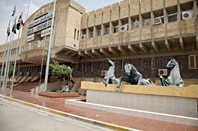 At the Governorate in Erbil, the general public has to enter from the side gate and pass through two security points. On my last day in Erbi however, I was walking past the main gate and entrance reserved for the government big shots. As I was passing it, I heard a "Hello! Mr. Jon!" The taxi driver that took me to the camp the day before was now a Traffic Police Officer in front of the Governorate. He immediately walked me straight into the front door and into the office of Sirwan. This kind of access is insane and something I would never have imagined.
Later, when I told Sirwan over dinner at the night club (In Erbil, the night club is basically an outdoor park restaurant with lawn furniture and beer. Men only.) that I wanted to go visit some camps near Dohuk, he immediately called his old school yard buddy, now the General Manager for the Governorate of Dohuk. He told him that I was a "very important person" and to take care of anything that I needed. Kordu Harki, complied and I was greeted with the full support of the government in Dohuk. They even gave me a car and driver.

The Power of Facebook
Also through facebook, I met another member of the Dizayee tribe. Hussein Dizayee is a 24 year old HR Director for an American NGO in Erbil. He reached out to me on Facebook after seeing my project and told me that he would be happy to help me with anything that I needed while in Erbil. While I was admittedly hesitant, I figured why not and gave him a call. He became a great friend. His friends and I ended up hanging out almost every night.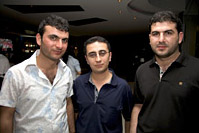 One night, we were hanging out at the Speed Center, a bar that is as American as any back home (complete with US Army hanging out in full uniform), when we met a Kurd with Canadian Citizenship who had been living in Florida. Shaun joined our group and we hung out with him as well for the next couple days. That night was actually pretty weird. Shaun was friends with an American girl named Sara (my sister's name), who was there with a coworker named Tory (my girlfriend's name), and then we found out that Hussein and I share the same birthday!
Another random Facebook connection was a girl named Tracy Fuad. She sent me a message on Facebook the other day telling me that she is going to be coming out to the Kurdistan Region for the first time and was looking for advice. She turned out to be a journalism student at Medill and is now going to be helping teach for Tiziano while in the region!

The Personal Touch
This is very much a culture of who you know. In Erbil, Hussein setup a meeting for me with his boss to discuss possible collaboration with the Tiziano Project. Hal, an American from New York who has been in and out of the Middle East for five years, in turn recommended me to Mohammed at IREX. IREX is much more up the alley of Tiziano in regards to teaching media and technology. Mohammed agreed to let Tiziano use IREX's computer lab to teach after school programs if we can make it back to Erbil.
Beyond that though, Mohammed is from Dohuk and goes back there every weekend. I told him that I was going there to look at more camps and asked if he could recommend anyone to help translate. He referred me to Halez, a Kurdish woman that speaks perfect english. He neglected to tell me however, that she happens to work for a local NGO that helps refugee camps! She knew a ton about the region and was a great help. Her boss even let her have the day off because of what I was doing and also because he too is a friend of Mohammed.
The following day, Halez was not able to spend the day with me. So my friend Mike, who I am staying with here in Dohuk, referred me to his friend Serdar. Serdar turned out to be a high school principal with a big heart. In the end he really wants to work with the Tiziano Project and is hoping to help us in the camps as well as possibly brining the program to his own high school.

The polarity of a postmodern vs. premodern world
This whole post has been about the miscellaneous connections that I have been lucky enough to have made during this trip. However, Hal the New Yorker from Hussein's company, pointed out an interesting polarity between the way they developed. Without Facebook, I would never have met anyone from the Dizayee family. However, it was the Dizayee family's real life connections with school yard friends and the personal calls that people have made to others on my behalf that has made the bulk of this trip a reality. Even Tracy, who contacted me on Facebook, later met with Tory in person in Chicago (they both go to Medill), to get the low down on Tiziano.
It's bizarre the way the world is becoming more connected when a photographer from Los Angeles can virtually meet a Kurd living in London, who then calls his brother in the government in Erbil, who then calls the Mayor of a local province, who then calls a local Muktar, who then takes me personally to visit twenty-two families living in a converted schoolhouse in the village of Grdachal. Los Angeles to Grdachal. From eight million people to twenty-two families in a school house in Grdachal. Using a postmodern technology to gain access to a premodern world.

Sidenote on the Dizayee Tribe
The Dizayee Tribe is one of the biggest families in the Erbil Province. The way I like to describe them is this: Imagine everyone with the last name Smith knowing exactly how they are related to each other and being willing to help anyone that is a friend of the family.
I'm still not clear on the exact history, and any Dizayee that is reading this, please feel free to correct this or add to it via comments, but the Dizayee tribe originally came from a town in Iran by the same name. The tribe is divided into four branches. Each roots back to one of four brothers that originally left the town and headed to the Erbil region. Each branch of the tribe has a chief, who members of the branch regularly go to to pay their respects.
Now, the Dizayee tribe is the largest and most well known family in Erbil. I was in the market the other day, looking at carpets. The guy pointed at one and said Dizayee. He didn't speak much english, but when I said Chatto and Sirwan and made a gesture of friendship, the price of the carpets immediately dropped 20%.