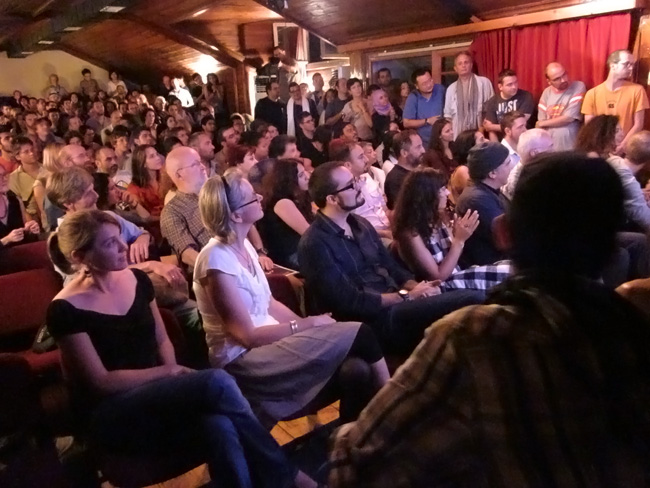 Above: Closing night presentations at the Foundry Photojournalism Workshop in Istanbul, Turkey. (Photo: Jon Vidar)
The Foundry Photojournalism Workshop in Istanbul, Turkey has come and gone. It was a great 10 days filled with motivated students, long lessons, intense editing, and lots of beer. It was exciting to meet the other instructors - many of whom I have admired for a long, long time.
The course I taught was called The Essential Guide to Backpack Journalism. I covered everything from the differences of being just another guy with a camera as opposed to a photojournalist, to how to create 360 degree panoramic photography using the Nodal Ninja tripod head.
The students spent their days attending lessons and shooting stories, while nights were filled with slideshows and panel discussions - always followed by good food and great company. Highlights included smoking a cigar out of Saddam Hussein's opulent son's humidor with Scott Peterson (Writer & Getty photographer), dancing the night away with photographers Adriana Zehbrauskas, Mansi Midha, Jared Moossy, and Guy Calaf at Shaft (an empty jazz club with an overweight teenager in shorts and a t-shirt playing guitar), and hanging out in our hotel hammam and spa until six in the morning.
Check out this compilation of my work from the Kurdish regions of Turkey and Iraq that I showed on "Working in the Region" night:
After a quick stop in Diyarbakir on the way back to help finish setting up the Tiziano branch, followed by a fight with a Haji in Bismil to pay the rent for the UTARP excavation storage unit, and a long taxi ride to Iraq with my roommate Chris Mendez, I am now ready to hit the ground running with the Tiziano Iraq team again. Tory and Grant did a great job of keeping things running while I was away and in week three we are now up to almost 20 students! More on the program here soon!