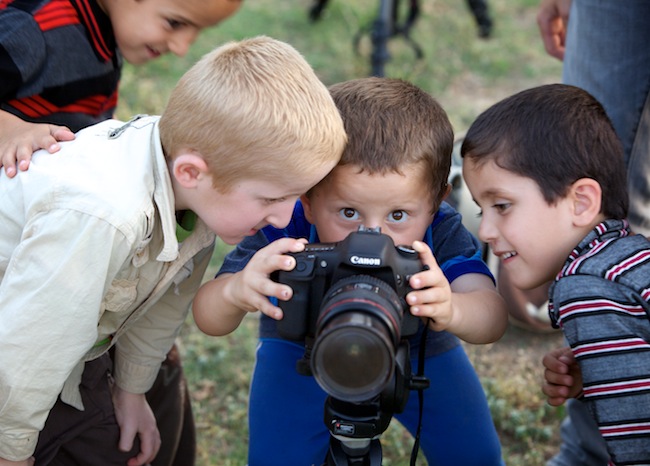 Kids take over Grant's camera while filming a promotional video for The Tiziano Project in Erbil, Iraq. (Photo: Jon Vidar)
The first couple weeks in Iraq have gone by swimmingly. It took us a little bit of time for us to find a place to live, but we eventually settled in to two rooms that we are renting from an American operated logistics company. It's a pretty sweet deal actually -- the town's internet tower is on the roof, so we get free high speed internet. The "villa" also has daily maid service and a generator that provides us with electricity 24 hours a day. We definitely aren't roughing it on this trip to Iraq!
The best selling point on this apartment though was a bomb-sniffing, English Spaniel named Sam. This adorable brown and white dog is everyone's friend. He spends most of his time sitting on your foot or perched up against your leg -- that is until you give him an empty water bottle which will drive him absolutely crazy. He gave us quite a scare the other day when he ran away though while out on a walk. He had gotten punished earlier for having an accident in the house and he is such an emotional dog that I think it went to his head. As soon as his owner looked away, he bolted. It took two days of almost constant searching before we found him. Someone called responding to a sign we posted in the neighborhood and varying stories finally led us to him tied to a tree in someone's driveway. People can get up to $500 for a dog like that in this region and most people thought he was picked up to be sold. Luckily, we got him back for a $100 reward (they tried to get $150 saying that they bought him a chicken). We are all very happy to have him back.
The 2010 Tiziano Project Iraq Workshops Begin
First and foremost, check out this video produced by Tiziano Mentor Grant Slater on why we are in Iraq:
Pretty cool, eh?
Well classes officially started this week and we went from eight students on the first day to more than 20 that now want to attend. Interest is spreading fast and we have reached capacity. We are trying to figure out ways to work with as many people as we can, but I think we are definitely going to have to set a cutoff beginning next week.
We are teaching at IREX, another NGO that focuses on media development in the region. I met with them last summer and they have graciously let us take over their computer lab for the next two months. It has really worked out well. We have also secured partnerships to supply some of the software we will be using, as well as licensing rights from the Moby Gratis program to use Moby tracks in our student produced films. If anyone knows someone at Adobe, let me know. We are still trying to get some licenses for Adobe Premiere.
The first couple of classes were spent covering all the basics. We taught interviewing techniques and how to write an article, along with how to create interactive timelines. Their first assignment was to tell the story of Kurdistan through their own family history. They are still working out the kinks on these, but I'll post a few once they are done.
Here are a few photos from the first day of class:
The 2010 Tiziano Project Iraq Expands to Turkey!
I have also been working with two undergrads at Northwestern who hoped to start a similar project in Diyarbakir, Turkey. Since I have already talked with many schools and the government there, it only seemed natural that I would help them make it a reality. In the last several months Tracy and Shanika rocked the Nortwestern system securing more than $10,000 in grant funding and today I met them for the first time in person in Diyarbakir.
Things have really fallen into place for them. It just so happens that someone got in touch with me out of the blue on Facebook a few days ago offering to help me bring The Tiziano Project to Diyarbakir. We met with him today and his Kurdish cultural organization is now donating ten additional cameras to help teach these workshops and he and his friends are working to help secure facilities and students. Another photographer also got in touch with us through my friend Mehmet and wants to help teach. This has really all just come together in the last 24 hours, so that combined with none stop eating and a good home cooked meal with Mehmet's parents have left me pretty worn out.
On my way to Istanbul for the Foundry Photojournalism Workshop
Tomorrow morning I fly to Istanbul to teach photography for one week at the Foundry Photojournalism Workshop. It looks like I am going to have a great group of students -- ranging from a young woman from Pakistan to a mother of two that lives in a yurt and keeps company with a rabbit, three alpacas, and a dog somewhere between Alaska and British Columbia.
I am truly excited and honored to join a faculty list of world class photographers who have included Ron Haviv (founder of VII photo agency), David Guttenfelder (six-time World Press Photo award winner), Ami Vitale, and Michael Robinson Chavez. I look forward to helping mold a group of international photographers, while enjoying a few beers with some of the industry's greats.