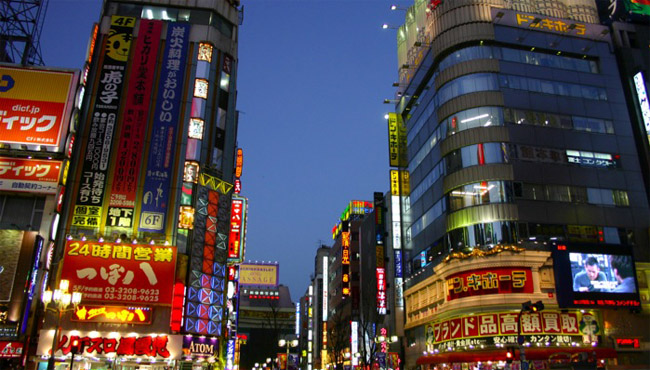 Above:A street screen from Tokyo, Japan.

Hope you all had a Merry Christmas! I'm in Tokyo right now getting ready for my 10 hour flight back to LA tomorrow. Where I lost a day flying out here, I get it back on the way home... I leave at 5pm on the 29th and arrive on the same day at 10am!
Anyway, where did I leave off? The Terra-cotta Army was awesome! We went on an organized tour though, which I normally swear I will not do... And once again I remembered why. The "english speaking guide" basically just told us why the buildings were named the what they were (based on when the areas were excavated) and the stop to see how the soldiers were made was just a stop at a souvenir shop to get us to buy the replicas... It was almost worth it though just because we met quite possibly the dumbest person we have ever met! A girl from Canada that was on the tour that insisted on asking everyone how to pronounce Xi'an... For more of stories on this girl see Chris' blog at http://www.myspace.com/chrisaiv - very entertaining!
That night we participated in what we are referring to as "dumpling day." Still not exactly sure what it was (I think it had something to do with the winter solstice) but for us it was just an excuse to sit around and make our own dumplings at our hostel. It had something to do with good luck - but then again we realized that everything in China has something to do with Good Luck!
Beijing was an interesting city... When I thought of it, I figured that it would be a modern city with a lot of history - but in reality, I would describe it as an ancient city desperately trying to be modern... and not really being completely successful... But it was a great place. We went to the Forbidden City, Tiananmen Square, an acrobatics show, the summer palace(where we spent most of our time sliding across the frozen lake), and of course the great wall. But I can honestly say - this city kicked our ass. With over 10 major trips between the two of us, we feel that we have become pretty good at figuring out a city within a day... In three days in Beijing however, we never got a grasp of the place. There wasn't a real metro system so we were taking buses around everywhere and when we finally gave up trying to find our destination we would just hop in a cab - and half the time they didn't even know where they were going!
This also was the first city that we have been officially scammed in... From the moment we got to Beijing people where coming up to us left and right to practice english - everyone seemed to be a "business english" major... And at first everyone was actually legitimate - we even went to McDonalds with two of them (yes we gave in and got McDonalds but we justified it as part of the chinese culture). So we let our guards down... Two people came up to us as we were leaving the forbidden city and started talking to us. They helped us find tickets to the acrobat show (which is a whole nother story - the show was kind of sad the acrobats kept falling and hurting themselves) and then when we said we were hungry they suggested an area... We ended up going with them to a Tea House that was supposedly going to serve us food... Instead we got 6 types of tea, pumpkin seeds, and a $250 bill! We fought over it and the two that brought us there agreed to pay half, but when the hostess came back, their credit card had been declined and Chris' was charged the full bill! A lot more fighting occurred and in the end Chris' card was charged for half the bill... We're planning on fighting it when we get back to the states so hopefully it will all work out... But our record has definitely been tarnished!
Beijing was also where we spent Christmas. Not much happened and our Christmas Eve dinner ended up being "fat on a stick" (supposed to be pork I think) on the way to the Acrobat show... We did manage to get a fake Charlie Brown style Christmas tree that brought some joy to our hostel dorm room!
And that brings us to Tokyo... The most expensive city that I have possibly ever been to! Just to compare - Cambodia = $3 / night for my own room with a bathroom... Tokyo = $30 / night for a 12 person dorm room! I've gone from spending about $20-30 / day total to over $100! I'm glad I'm only here for three days!
But Tokyo has been awesome! Amazing city and incredibly huge! One of the biggest, most complete subway system I have ever used. I've really just spent most of my time here going from city to city exploring via the metro... Every subway stop seems to be another downtown metropolis. I also went up to the 60th floor of a "sun city" building for an amazing view of the city. Today however, I did manage to find some Japanese gardens which were incredibly hidden in the midst of all these towering skyscrapers.