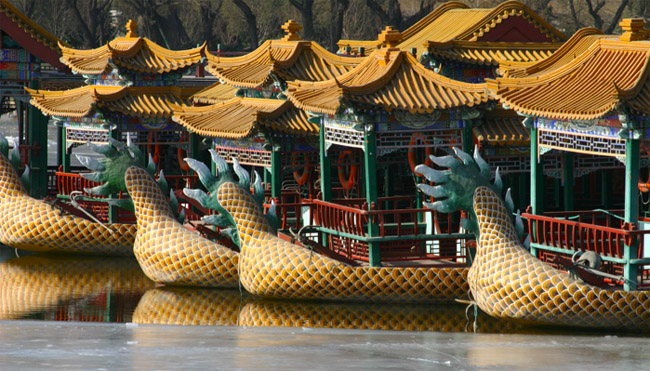 Above: Ornamental boats in Beijing, China.

Well bangkok came and went... And I think it was for the best! I realized that Bangkok is really just a transit city - you don't want to spend more than a day or two there. I was very happy with my hostel though and realized I was in the right place when I saw one of the glass seeing eyes from Turkey hanging in the reception area. There was something oddly comforting about it... Bangkok has a few temples that are nice including a huge reclining buddha and the grand palace was impressive (it would have been more so if the entire building wasn't being worked on!)... I also went to Chinatown and a very popular (i.e. overpriced touristy) street called Khoa San Road.
It was funny though cause everything I heard from everyone, and everything I read in the guidebooks, told me not to trust the tuk-tuk (motor bikes with an attached carriage) drivers - that if you get on you will end up in a fake jewelry store.... Well after just about 2 hours of walking around - I'm not even sure how - but I found myself looking at fake jewelry! Some guy in a suit at one of the rear entrances to the Grand Palace managed to convince me that the palace was closed until the afternoon and showed me a few places to go in the mean time. Then he flagged down a tuk-tuk and off I went! Oh well... It was actually worth it anyways cause in addition to the jewelry store I got to see a few extra sites that I would not have gone to, and the near death experience of riding in one of those things in bangkok traffic was definitely worth the 50 cents it cost me!
The last night I was in Bangkok I went to a Thai boxing match. This is THE sport here in Bangkok and was awesome to watch! There was a 4 piece band that really guided the entire match, which was more of a dance than straight kick boxing. But equally interesting to watch were the crowds of Thai men screaming out their bets in between rounds.
Yesterday I arrived in Siem Reap, Cambodia to see the Temples of Angkor. This alone has made this whole trip worth it! The temples here are absolutely amazing! And I have spent the last two days riding around from one to the next on the back of some guys motor bike. It cost me $25 for two days of this poor guy just sitting outside temples while I went and explored - I worked it out and he was making about $2/hr - but probably a good wage in this country. I know I actually paid more than others. The temples themselves were absolutely amazing. I went to about 10 and didn't even come close to seeing everything this area has to offer. But I did see what they refer to as the "Jungle Temple" - basically a temple that was never restored and as a result is overgrown with trees and has roots as big as I am climbing down the walls - you may remember this Temple from the Angelina Jolie movie Tomb Raider. I also went to what they call "The Far Away Temple"(Keep in mind these temples have real names I just don't have my map on me and this is what all the guides call them for us tourists anyways!). The far away temple was about 30-40km outside of town and on poor roads, I was actually more scared for my life than on the Tuk-tuk in Bangkok! But I just closed my eyes a few times ;) Now I am very soar however!
I have also had some really good luck with the people here. For instance, when I arrived at the airport, I had no idea were I was going to stay here in Siem Reap (a common theme of my travels) and no idea how to even get to town. Well when I was waiting in line for a visa, I started talking to this thai man who was here for business and he ended up paying for the cab and talking me around to three places before I found a vacancy! It's nice to know that there are places where you can still rely on the kindness of strangers.
Anyways hope you all made it through this long letter ;) I will be leaving tomorrow for Chiang Mai back in Thailand where I will spend a few days and then head to Hong Kong to meet my friend Chris.