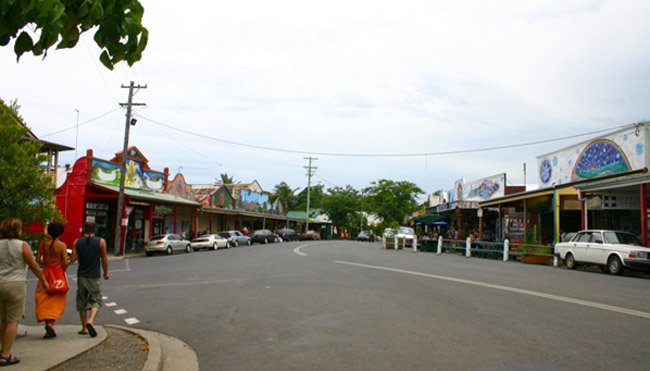 Above: A street scene from Nimbon, Australia.

So we got a rental car in brisbane and ended up driving to Surfers Paradise in the gold coast and Byron Bay. The first place was just as it is described - surfers paradise! Miles of beaches and a huge surf community... Byron Bay was more of a hippie surf area so it was interesting to see the difference between a trendy surf town and a hippie surf town!
Today we drove up to Nimbon and visited some rain forrest areas as well as a waterfall that was disappointingly low on falling water... Probably has something to do with it being the middle of summer here and all!
Driving was tricky at first... A little nerve racking driving on the wrong side of the car and the opposite side of the road! It was definitely tougher than I had expected... But the windy mountain roads going through the national parks helped me pick it up pretty quick.
Tomorrow we fly up to Mackay where we will be renting another car to go to the Whitsunday Islands and then further up to Cairns. I'll let you know how it goes!