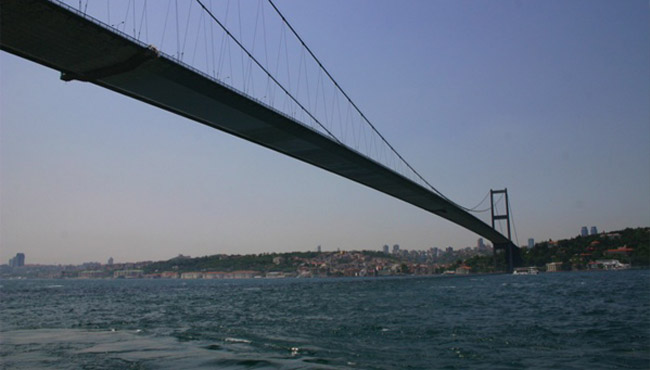 Above: A bridge over the Bosporus in Istanbul, Turkey.
Well where to begin... Bodrum was amazingly relaxing - which was exactly what I needed! I ended up staying a full three days and three nights in this beach front city mostly just reading a book on the waterfront... I finally got through the DaVinci Code! While I was there, I also went by St. Peters Castle (I believe that was the name) where to my surprise they had several exhibits on underwater archaeology. I thought excavating mud brick was hard - try going down 20 meters and excavating a sunken ship! Because of the pressures of scuba diving, you can only go down for 20-30 minutes at a time, twice a day! I ended up talking my way into the archaeology lab in the back of the castle and met a couple of conservators that talked to me for a quite a while on the subject - it is really amazing!
Bodrum was pretty crazy though because my minimal turkish actually went a really long way... It is a total resort town for europeans (mostly Brits) and so words of turkish were returned with complete surprise. I did take advantage of this english speaking town however and finally saw Star Wars in English!
From Bodrum I went to Seçuk, where I visited Ephesus and the House of the Virgin Mary (apparently were she lived out the rest of her life after Jesus was crucified). The next day I made a day trip to Pumakkale which was actually really cool! The attraction are these thousands of years old natural baths in beautiful white rock. It was made from the extremely calcium rich water. The baths used to be closed of to the public due to overuse but now they have integrated a serious of "public" pools that are very rejuvenating. I met some british girls on the bus ride over and we ended up covering each other in mud and just relaxing in the pools for a couple hours - it was great!
That night, I left for Çannakalle, the closest city to Troy and Gallipoli... I was actually awe struck finally seeing Troy in person. Having spent a year an a half of my undergraduate career looking at the site it was somewhat of a pilgrimage for me to see it in person. Most people say that it is a real let down (and as far as ancient sites and ruins go, there isn't much there) but knowing the intricacies of the site made it totally worth it for me. For some reason though Trevor, I still don't think we have heard the last of the Troy Project.....
Gallipoli was cool as well. I ended up hitchhiking down to the actual Anzak Cove beach where the Australian and New Zealand forces landed and walking around for a bit. It had to have been insane trying to secure that beach! There were some interesting things to see like beachside cemeteries where entire units were buried and battlements/trenches that were still visible. Unfortunately I didn't get as lucky getting back from the beach and ended up walking about 5km back to where the bus picks you up... I think in total that day I ended up walking 10-15km! And with the exception of Bodrum most of the days have been very similar... My legs are anxious to get home...
I am now in Istanbul staying with friends of a friend on the dig... which by the way Jenny thank for sending them an email giving them the heads up ;) They are really cool people though and there two bedroom apt actually had 6 people in it last night (3 visitors from out of town) It's like staying in a free hostel! Today I met up wit the girl that took me around way back on my first day in Istanbul and visited some more spots. Tomorrow unfortunately though is my last day here :( I will then be headed for NY for the 4th of July and then back to LA... I am not anxious to get home, but it will be nice to sleep in my own bed again...