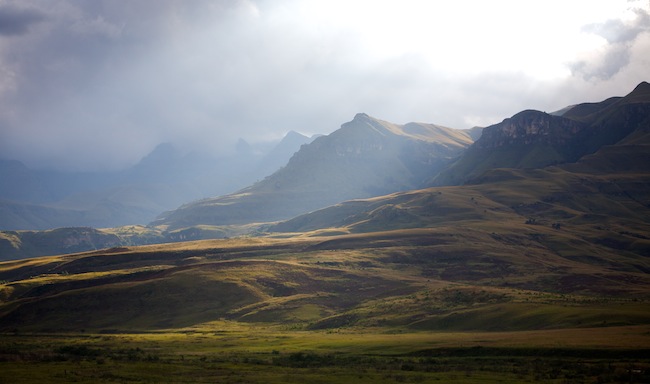 Above - A sunset view of the Central Drakensberg mountain range in South Africa. (Photo: Jon Vidar)
So uh, ya I think I told you, right? I was in South Africa... I really did keep meaning to write, but the days just kept flying by. The trip was a lot of fun, but by far the most work I have ever done in my life. I think I started out my last blog entry the exact same way, but it's true. We were basically working from 9am-2am every single day for two months.
It was a long ride from where I left off in my last blog entry. A journey that took me in a giant circle across all of South Africa - through the small villages of the Drakensberg Mountains, to Kimberley (the diamond capital of the world where Cecil Rhodes built the DeBeers empire), to partying local style in the Langa township outside of Cape Town. Here's the gist: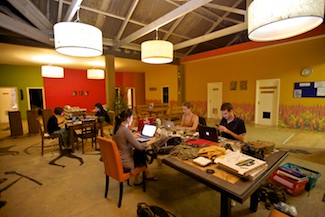 After Jeffrey's Bay, we traveled as a team for a few days before arriving in Durban. The plan was to stay here for about six days or so, but after two weeks we still found ourselves camped up in a warehouse style hostel working day in and day out trying to finalize chapters and the website. This delay put a major kink in our schedule and we decided that the only way to finish was to split up four ways.
So the next day, I took a rental car and headed for the Drakensberg Mountains - arguably one of the most beautiful regions in the entire country. At every corner, you are met with another breathtaking view of layer upon layer of mountain ranges. Dusk and dawn are truly magical as the sky between the mountains shifts between varying shades of purple with a misty haze filling the gaps.
Till now, I had fallen into my usual role of web monkey, building out the modernoverland.com website and a CMS that will eventually manage around 5,000 entries and more than 25,000 photos - easily the largest project that I have ever worked on. I had yet to cover a city by myself, so there was quite a learning curve involved with essentially taking ownership over writing a chapter and a half of the book.
I quickly caught on to the process though - covering as many hotels, hostels, restaurants, and activities during the day as possible and spending evenings writing and researching places to go the next. Between cities, I would find myself in eight hour long car trips without anything but an iPod to keep me company. I had a lot of time to think and reflect - a much needed experience, as I now find myself at somewhat of a fork in the road of life.
A couple favorite moments stand out from the latter half of my South African experience. One was a nearly missed opportunity in Drakensberg... There were a couple hotels that I really wanted to avoid, as they were about an hour away and the only thing to see in a remote region of the valley. After nearly talking myself out of going, I decided that I needed to just do it. During the trip I came across two hitch hikers trying to get from one of the hotels to the other. I offered up a ride and one ended up being a Random House photographer working on a book on Drakensberg and the other was the photo editor for Out There adventure magazine. Good people to know if nothing more than just for the few stories we shared in passing. Within five minutes of dropping them off and exchanging information, I pulled over by the side of the road to take photos of the sunset over the mountain range. Before I could even get my zoom lens out of the trunk, a mother and her children came running up from the village below to ask for sweets for the kids. I only spoke with them for a few minutes, but as the sun was setting over this scruffy family with the beautiful mountain range in the background, I captured some of the most compelling photographs of my entire trip. Three hours well spent.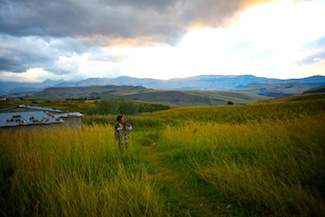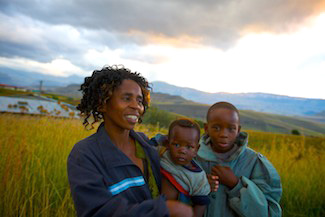 My second favorite moment was connecting with the locals of the Langa township during their weekly sunday braii. Basically a giant street festival with drinking and barbecued meat galore, this is one of the few mixed ethnicity events I experienced in South Africa. Race is still a bone of contention in the country and, on numerous occasions - mostly in Durban - I actually felt uncomfortable due to the color of my skin. This couldn't be further from the case in Langa. Whites, blacks, indians, foreigners, locals, college students, senior citizens - it didn't matter - all enjoyed the day together. Music filled the whole area and dancing reached from the streets to the rooftops.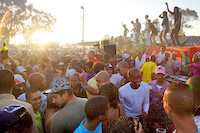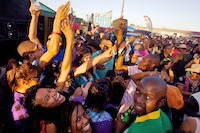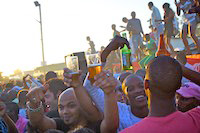 But the trip to South Africa ended without significant resolution. We are still working on completing the book and I still have web development to be done, but we are trucking forward. John had the worst post-team luck, as about one week after we left him, the engine died in his Land Rover while passing one of the country's roughest townships. While sitting in his car by the side of the road waiting for a tow truck, he got hijacked. Yes - rock smashing windows, people threatening his life - hijacked. Police cars passed by and did nothing as the hijackers made off with thousands of dollars in equipment. To make matters worse, John's equipment insurance lapsed a few months prior without him knowing.
While we will certainly miss our World Cup deadline, the website is live - http://www.modernoverland.com - and the book is still set to be released within the next month or so.
On to the next adventure | Iraq
After two weeks back in LA, where I spent the vast majority of my time locked away at my brother's house - working hours almost as bad as those in South Africa - I now find myself headed back to Iraq for my third visit.
As all of you know, or if you don't you may have been living under a rock several months ago, we recently won a $25,000 grant through Facebook for the non-profit that I run - The Tiziano Project. I am currently with Tory, headed to Erbil to use this grant to teach a two-month new media journalism workshop for current and aspiring journalists.
In the two weeks that I was in Los Angeles, we were able to go live with the culmination of months of hard work - rebranding almost all aspect of The Tiziano Project - from the logo, to verbiage, to the launch of two entirley new websites.
We have made the main Tiziano Project website into more of an informational site about the project: http://www.tizianoproject.org
While our student produced content has found a new home at: http://reports.tizianoproject.org
More new product launches will be coming soon as we move forward with our goals in the upcoming weeks and I will also try to stay more connected. Expect updates from the road as I just got my iPhone unlocked - best $20 I ever spent.


South Africa - Images by Jon Vidar