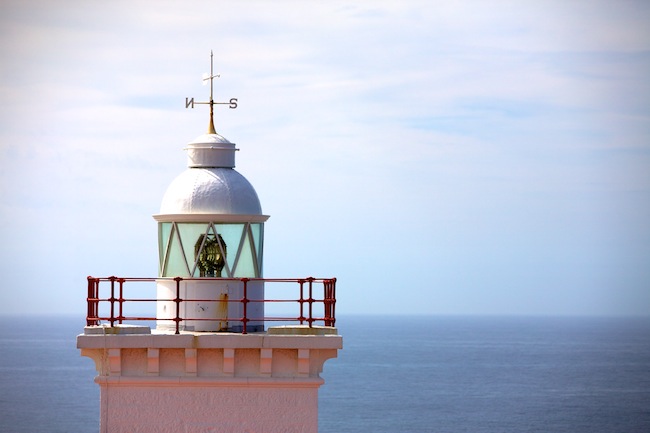 Above - The St Blaize lighthouse at Mossel Bay, South Africa (Photo: Jon Vidar)
I've been in South Africa for about two weeks now and it has been both an amazing and exhausting experience. Working on this guidebook is easily the hardest and coolest job I have ever had. My office has transformed from a subbasement room with no windows to a never-ending array of locations including wineries, poolside hammocks, and the back of a Land Rover.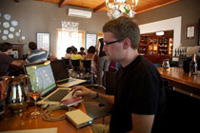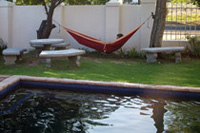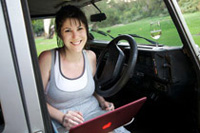 At night, we have found ourselves sleeping in converted horse stables, an old train on the beach, and camping under the stars.
We have a four person team traveling in a Land Rover Defender equipped with an extra battery that can power three computers. USB 3G modems keep us connected the entire time.
We arrive in a city and immediately divide and conquer -- hotels, hostels, restaurants, bars, museums, sites, banks, internet hotspots, etc. Small cities we can finish in a day, larger ones can take a few more.
We don't like to tell people that we are working on a guide book, so we have come up with a ton of covers. Liz (one of our co-travelers) said it best: "we are basically going to lie our way though South Africa." The smart people tend to catch on when they see one of us furiously taking notes while another is photographing and, yet another, is tagging GPS. We've gotten a few people coming up to us asking if we are working for Lonely Planet.
From day one South Africa has surprised me. My previous experience with Africa was focused around Northern Africa and Rwanda. The north always felt more like the Middle East to me, while Rwanda was always truer to my western perceptions of "Africa." When I bought my tickets, I was fully expecting to come to a country that was more in line with the latter. However, when I got here, I was met with a predominantly European feel and taken directly to the wine region, which I could have easily confused with Santa Barbara. It was not at all what I expected.
I have since realized that the major cities and towns along the coast often conceal the "real Africa," or western clichés, which still exists. Much more hidden and not often discussed are the local townships that correspond to each city. Here, the native South Africans live -- mostly in shacks made from wood and scrap metal -- and commute in to the more "civilized" cities for work.
I have yet to visit a township, but this dichotomy is something that really intrigues me. The imperialism of the country's recent past still lingers in the air in pretty much every city I have visited. I am curios to see how the relationships between different racial and socio-economic groups play out as we travel through different regions of the country.

So far though, a few highlights include: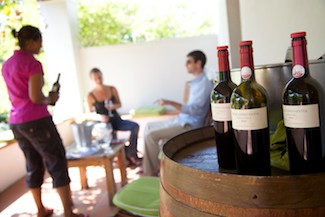 Wine country outside of Cape Town - If you are a wine connoisseur, a trip to the region around Stellenbosch is definitely in order. In fact, my sister already booked tickets. John Bradley, the brainchild behind this whole project, actually had a bar built into his Land Rover and we stocked the car full with four cases of wine before leaving the region.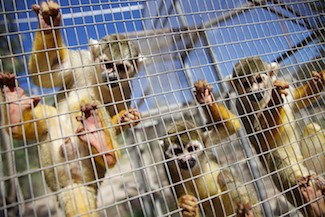 Montagu - Not recommending it, just saying that there is something in the water there... After sleeping in the stables of a converted horse barn, we ate breakfast at "The Docks" -- a cafe that in Tory's words "feels like you are eating at your grandma's house... If you grandma is a swinger." After that, we headed for the town's "main attraction" -- the hot springs at Avalon Springs. These springs however were nothing more than two hotel swimming pools for swimmers age 5-11 or 55-80. After being told by several people that these were the only springs in town, one person mentioned something under his breath about a "whites only" hot springs. While surprised about the fact that this level of racism still existed, we went to check it out. At the end of a two kilometer dirt road, we were greeted by a large gate surrounded by an aviary and caged monkeys -- not a good precursor of things to come. We then noticed several signs posted with the club's slogan: "For those who like strict rules." It took a little convincing, but the receptionist allowed us to go in and drive around the lot. The "private club" felt more like we were on the set for the next Texas Chainsaw Massacre film - farm equipment adorned the entrance and old trailers were parked throughout the park. We left as quickly as we came, but by the time we got back to town it was deserted. And with twenty-seven churches in a town that spans about one square mile you could actually feel the eeriness in the air. Upon further research, we found ties to both the Freemasons and the Afrikaner national movement (a group of people who's logo alone makes me think neo-nazi - not a good group to say the least). It was a strange and creepy town, but if you must go, Die Stal has some amazing chocolate cake.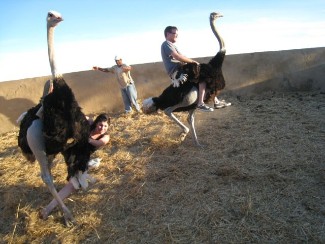 Random connections from travel past obviously leads to Ostrich riding in Africa - A few years ago I took a trip through South America and met a couple from South Africa. The husband, Hans, happened to be a photographer and he helped me out a lot with shooting night photography at the Iguassu Falls in Argentina. We've kept in touch over the years, and when we got to his home town of Oudtshoorn, he and his wife took us in. We had one of our best night's sleep of the trip and Hans ended up being a tremendous help. He happens to be on the Tourism board for the city -- not a bad person to know when you are writing a guidebook... Not only did he give us a ton of insider tips on the town, but he hooked us up with the manager at the High Gate ostrich farm for some early evening ostrich riding! I may or may not have fallen off and been stepped on and kicked by an ostrich. Twice.
Since then, we have been continuing east along the southern coast of South Africa. After a quick visit to the Tsitsikama National park, we spent three days in Jeffrey's Bay -- one of the top three surfing destinations in the world.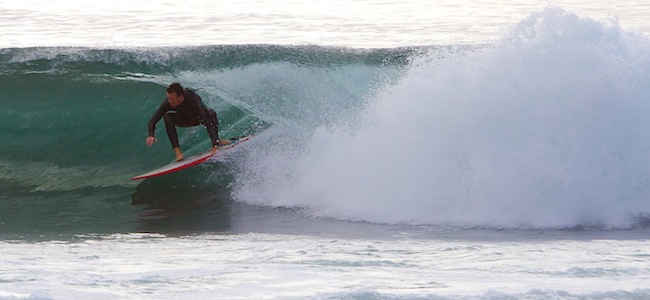 The last night there, John splurged and got the team a three-flat villa right on the water. It cost $150 total for an amazing night of sipping wine on the beach.
Today we arrived in Port Elizabeth and will spend a couple of days here before moving on to the next city in our adventure.

South Africa - Images by Jon Vidar