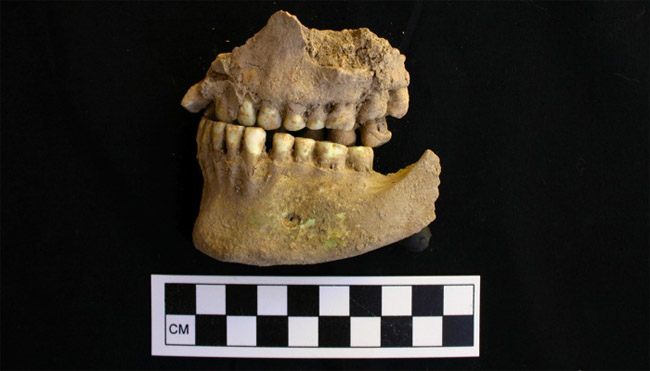 Above: A detail view of the left side of a skeleton's jaw.

We have a bone specialist here this year analyzing all the human remains that have been unearthed over the last few seasons. It is amazing what you can tell from a 5,000 year old skeleton! For example, in the picture above, note the greenish tint on the bottom half of the jaw... These remains were found with her left hand resting across the side of her face -- the fingers of which were also tinted green. What this most likely represents is a young female buried with brass rings on her fingers as grave goods. Over time, the rings themselves eroded but the material dyed the bone they were in contact with green.
In the pictures below, the holes that you see in the skull and femur are actually indicative of syphilis. Which, as a 5,000 year old skeleton, would be significantly earlier than any known cases of this disease. The size and shape of the pelvis (not pictured) tell us that it was a girl and several other features put her at about 18 years old.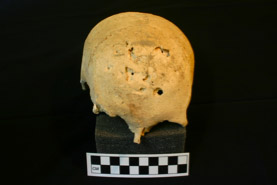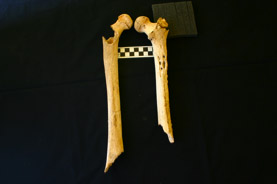 In the process of analyzing all of these bones, we have also given some very interesting stories to all of there lives. So far, we have decided the skull above belongs to Stacy -- a member of the world's oldest profession. Stacy lives next door to a scary cat lady (we found a few cat bones in the next trench)... And the cat lady is also the mortal enemy of the fish lady that lives down the hill (this was based off of another trench we found that was loaded with shell). Yeah it has been some long days here...
But anyways, I have seriously learned more about the human body this summer than I ever did in a biology class!