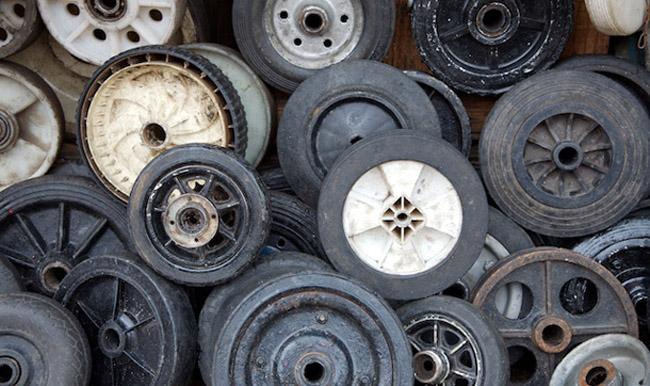 Above: A collection of wheels sit on the roadside in Manaus, Brasil.
Catching Up:
Ok so back in February I went down to Brasil for a couple weeks to visit my friends Isabella and Luciana in Curitiba. If you guys remember the story from last year of a group of Brazilians that convinced Ian and I to stay in Uruguay for New Years, well these are those two sisters... And Isabella was graduating from college and I figured it was as good a time to go to Brasil as any! So the trip ended up being a week in Curitiba and a week in the Amazon...
Myths Debunked:
So first off a couple of myths that I have had to shoot down for everyone since I have been back.
1) Every woman in Brasil in not drop dead gorgeous, half naked, and wearing feathers on their head. Don't get me wrong though, there are many, many beautiful woman in Brasil - it's just not Carnival everyday of the year :-)
2) While on a boat going down the Amazon, Monkeys will not be swinging across the river on vines and snakes will not be falling into the boat from low hanging tree branches. The Amazon river is actually very, very wide...
Other observations about Brasil:
Brasilians love to eat. And they eat amazing meat! There is a type of restaurant called a churrascaria, which involves about 20 waiters constantly rotating the room with different types of meat and their main goal is to keep your plate full at all times.
Brasilians love to party. The bars and clubs are tons of fun and stay open till the early hours of the morning. The only interesting thing is how they take care of tabs... You get a piece of paper when you first enter and the bartenders simply mark off drinks as you go throughout the night. Then, at the end of the evening, there is a mad rush of people trying to push their way to the cashier to pay off their tab to get past the bouncer at the door... It's not the most efficient system...
Brasilians love their football. I was lucky enough to attend one Atletico match while I was in Curitiba and it was intense! I am definitely a fan.
All in all, I had a great time in Curitiba. Luciana became my tour guide, as Isabella had to work during the day, and I managed to see everything in the city and even make a day trip with Luciana and her father to Morretes - a relaxing river town about an hour outside of Curitiba.
My Amazon Adventure:
The Amazon was definitely not what I had in my mind when I headed down to Brasil (See myth #2). The capital of the Amazon, Manaus, is basically a big, dirty, two million person city in the middle of the rain forrest -- and the only way you really even know your in the rain forrest is the heat, the incredible humidity, and the daily downpour around 2pm. I was taking about two showers a day just because you would either return drenched in sweat or rain every time you came home.
I did meet some really amazing people while up there though -- the main reason why I still stayed in this city for a whole four days -- and also saw some pretty cool things. Namely the meeting of the two waters, where the black water of the Rio Negro meets the brown, merky water of the Rio Amazonas.
When I finally decided that it was time to pack up my bags and head down the river, I booked a two day boat ride to a city called Santarem. The Ferry boats of the Amazon are a very interesting experience... Being the main means of transportation for locals, I was basically smack in the middle of a room of 600+ people - hanging up on a green hammock that I had purchased in Manaus. Only about a dozen were tourists, the rest primarily locals and families. The colorful scene of hundreds of bright and unique hammocks made for a beautiful sight and some great photos.
Santarem ended up being another dirty city, but a 30 minute bus ride out of town took me and a few other travelers to a forrest oasis called Alter Do Chao. For the first time, I felt like I was in the amazon. I was surrounded by forrest and could hear hundreds of birds and animals of all kinds. To top it all off though, was a beautiful lake with a sandy island in the middle that mad for a relaxing afternoon of eating fresh fish and swimming in some of the warmest natural water I have ever experienced.
On to the future:
So the secondary motive for sending out this email is to fill you in on my upcoming travel plans... In about two weeks, I will be heading to Turkey for my usual summer vacation home in the beautiful town of rural Bismil, Turkey. But in traditional fashion, I cant limit myself to one location for all of summer so I have added on several other projects that I will be working on... After the dig, if everything works out, I will be on a tour with the Pacifica Institute - a cultural institute in Los Angeles where I have been taking Turkish Language classes - providing photography for a two week educational trip around Turkey for educators, politicians, and foreign diplomats. From there, I will be working on my own personal Kurdish Life photo project with the help of my friend Tezcan from the Pacifica Institute.
Then on to the segment that might turn a few heads... Northern Iraq. I will be working with a couple of other people to bring the Tiziano Project - the empowerment journalism project that sent me to Rwanda last summer - to the Kurdish region of Iraq. Luckily, one of my good friends set me up with a former trojan that had been working with a high school in the town of Suliymaniah near the Iran border, so we already have some great connections. And just to reassure any concerns, the northern region of Iraq has been extremely stable and actually very safe. I will either be crossing the border from Turkey by land or flying directly into the town of Suli. Either way, I will have email access and will be keeping you all posted on my status.
And finally, I am flying home from Dubai and planning to get in a couple days before my flight out to get a taste for one of the richest cities in the world.